Japan - Core Views Playing Out
05 May 2011 • by Natalie Aster
BMI View: Economic data for March has confirmed the negative impact of the recent earthquake and tsunami. The forecasts we made shortly after the crisis appear to be playing our right on cue, with consumer confidence falling, the trade surplus narrowing, and price pressures increasing. We have also seen some repatriation of overseas equity holdings as we expected, which has underpinned local bond yields. We stress, though, that long-dated JGBs are an extremely risky asset at these low yields given the macro shifts taking place at present, and we believe local equities hold more promise.
Consumer Confidence Takes an Unsurprising Hit
As we previously argued, we believe that the Japanese consumer will bear the brunt of the economic hit following the crisis. Not only has a substantial amount of personal wealth been destroyed, which will hurt consumer purchasing power, but reconstruction efforts will divert resources into investment goods production at the expense of final consumer goods production. The weakening foreign exchange value of the yen, meanwhile, will further undermine purchasing power. We are not surprised, therefore, to see consumer confidence fall to a cycle low and the worst level since June 2009. Further downward adjustments to Japanese households' spending plans are likely to follow, taking the index lower over the coming months.
Consumers Not So Confident
Japan - Consumer Confidence Index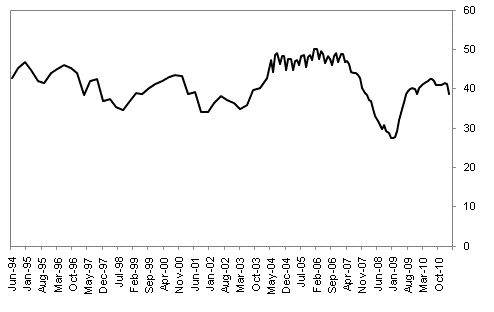 Source: BMI, ESRI
Trade Deficit Not Far Off
The seasonally-adjusted merchandise trade balance declined to a two-year low of JPY96.3bn in March, equal to just a fifth of the February surplus. While we still expect Japan to run a trade surplus this year, the likelihood is that it will be much lower than usual as high oil prices and reconstruction spending boost imports, while continued supply chain disruptions, particularly at automakers and electronic goods producers, hurt export revenues. Even beyond these temporary factors, we continue to see a much narrower trade surplus over the medium term as the domestic savings rate continues its decline, and we cannot rule out a sustained trade deficit within the next few years.
Edging Into The Red
Japan - Trade Surplus, JPYbn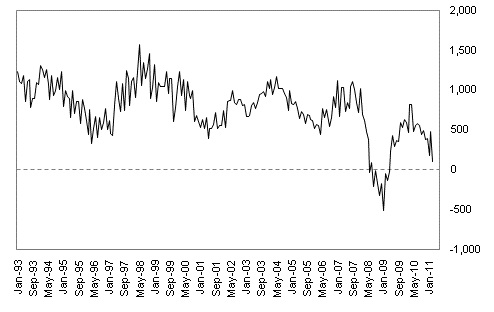 Source: BMI, MOF
Price Pressures Building
While nationwide consumer price inflation figures for March are yet to be published, corporate goods prices are showing a continued uptrend, with the March reading up 2.0% y-o-y. Rising international commodities prices and local supply disruptions should continue to see price pressures mount in the months ahead, placing an additional squeeze on corporate margins and consumer spending.
Inflation Ticking Up
Japan - Corporate Goods Prices, % chg y-o-y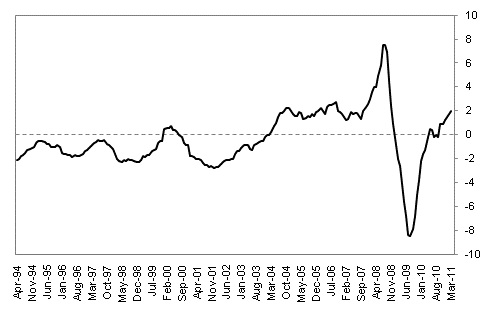 Source: BMI, BoJ
Massive Repatriation Underpins JGBs... For Now
As expected, we have seen a large amount of repatriation on behalf of Japanese overseas investors, who have sold JPY697.7bn worth of foreign equities over the past month. The repatriation seems to be intensifying, with the week ending April 15 seeing a record JPY377.4bn in net repatriation. Due to heightened uncertainty about the domestic economic outlook, Japanese investors have likely been returning to the comfort of domestic government bonds. Despite increased inflation expectations and the deteriorating fiscal position, 10-year JGB yields have edged lower in recent weeks as more of the nation's dwindling savings pool is being directed into the asset class that has served investors exceptionally well in the past. We believe that the 'safe haven' status of JGBs that Japanese investors are being attracted to at present is unlikely to remain in place over the medium term and we expect government bonds to result in negative real returns over the coming years.
Record Flight To Safety
Japan - Foreign Stock Purchases, JPYbn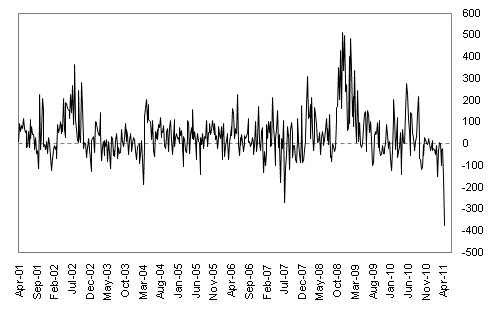 Source: BMI, MOF
Real yields on 10-year JGBs are remarkably low at just 1.2%, which are amongst the lowest in the world, and only marginally higher than the low seen back in mid-2008. Back then, savage deflation saw bond yields fall, but given our outlook for increased inflation, it seems highly likely bond yields will rise over the medium term. This view is supported by the recent news that Japan's Government Pension Investment Fund (GPIF), a major holder of JGBs, will sell JPY6.4trn worth of assets this financial year as pension contributions continue to fall short of pension payouts.
Bond Yields Too Low For Comfort
Japan - 10-Year Japanese Government Bond Yield, %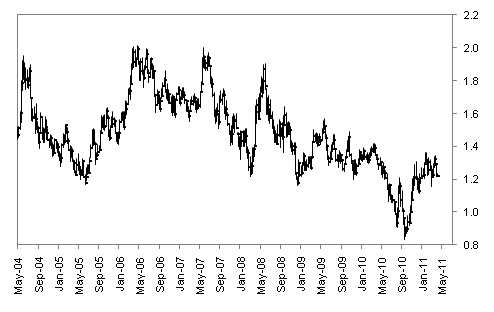 Source: BMI
Time for Equities to Outperform Bonds
The medium-term outlook for local equities is much more bullish. The dividend yield of 2.1% on the Topix, for instance, stands out as been highly attractive relative to JGBs, particularly as we continue to see the JPY weakening on a trade-weighted basis. As such, we expect equities to outperform bonds going forward after a multi-decade period of bond outperformance.
BMI 's Business Forecast Reports are used by corporate strategists, treasurers, economists and researchers to identify opportunities, manage risks and plan strategies for promoting growth and profitability. They are an influential analysis of political, economic and financial prospects over a 5 to 10 year horizon.
Each report provides an in-depth, authoritative and independent appraisal of political risk, macroeconomic performance, leading industry sectors and the business environment. The report examines a country's political and economic outlook detailing levels of political stability and assessing the degree to which each country approximates the ideal of non-inflationary growth with contained fiscal deficits and manageable debt ratios. Key areas of focus include real GDP growth, monetary policy, exchange rates, the balance of payments, foreign debt and FDI.
Related Reports:
To order the report or ask for sample pages contact ps@marketpublishers.com
CONTACTS
The Market Publishers, Ltd.
Mrs. Alla Martin
Tel: +44 208 144 6009
Fax: +44 207 900 3970
ps@marketpublishers.com
www.marketpublishers.com