Thailand - Serm Suk Seeks To Terminate PepsiCo's Bottling Agreement, Renegotiation Likely
25 Apr 2011 • by Natalie Aster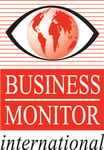 PepsiCo's Thai bottler Serm Suk is seeking to terminate its bottling agreement with the US soft drinks giant over a disagreement of bottling terms, marking the latest dispute between the two soft drinks players. However, given the long-standing partnership between Serm Suk and PepsiCo and Thailand's strategic importance to the US soft drinks giant, there is probably still scope for both companies to renegotiate their contract terms and consequently extend their partnership, in our opinion.
Due to a disagreement over bottling terms for the new bottling agreement due on March 31 2011, Serm Suk decided to terminate an exclusive bottling agreement between itself and PepsiCo. According to a regulatory filing released by Serm Suk on April 1 2011, Serm Suk did not sign the new bottling agreement drafted by PepsiCo because it included new terms that were not previously agreed on by Serm Suk's shareholders in February 2011. On the other hand, PepsiCo claimed that Serm Suk has laid out new demands following the shareholders' meeting in February and that it has met many of Serm Suk's new demands, although there were a number of conditions PepsiCo refused to accept as they will potentially undermine the US soft drinks company's interests in Thailand, according to PepsiCo.
A key dispute between PepsiCo and Serm Suk amid talks to amend the existing bottling terms, for instance, is the price of concentrates. Serm Suk proposed a new formula to lower the price of concentrates it has to pay to PepsiCo by 9% per annum from the previous contract. This demand was rejected by PepsiCo as it proposed only a 5% reduction instead, according to Serm Suk. Another conflict of interest is Serm Suk's proposal to produce and sell other beverages besides PepsiCo's brands.
Clearly, both parties are keen on strengthening their competitive positions through the new agreement and neither is willing to make significant compromises to reach a consensus on the new bottling terms. Should a termination of the bottling agreement be approved by Serm Suk's shareholders, which means that Serm Suk will no longer manufacture and distribute PepsiCo's beverage products in Thailand, this termination will only take effect within 12 months from the date of notice.
However, despite the conflicts of interest between PepsiCo and Serm Suk, we think it is likely that both companies seek to renegotiate their bottling terms over the next 12 months and establish a common ground, given their strategic interests in the partnership.
Reliant On US, Greater EM Exposure Needed
2010 Revenue By Geographic Breakdown (%)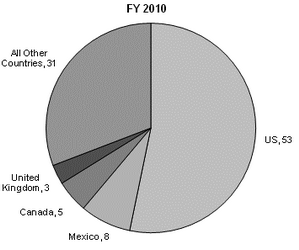 Note: Year ending December. Source: Company Financials, Bloomberg
For PepsiCo, dynamic emerging market (EM) growth is simply too important for a company that ,despite a lot of EM growth over the past few years, remains reliant on the weak US demand story for over half of its overall revenues, and Thailand clearly represents a strong growth platform for the US soft drinks company (see chart).
Burgeoning Soft Drinks Potential
Thailand: Soft Drink Sales, % chg y-o-y and Carbonated Soft Drink Sales, % chg y-o-y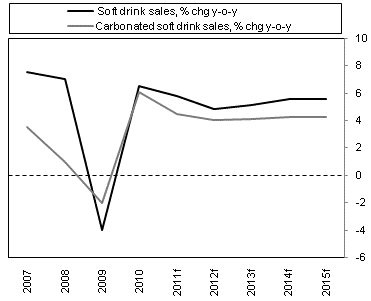 f=BMI forecast. Source: Trade Press,Company Information, BMI
The strategic importance of Serm Suk to PepsiCo is further highlighted in the US soft drinks giant's recent attempt to gain control of Serm Suk. Via its Strategic Beverages (Thailand) joint venture, PepsiCo fell short of securing the additional 9.5% stake it needed to form a majority 51% stake in Serm Suk due to its low offering price (see 'PepsiCo Still Committed Despite Serm Suk Tender Cancellation', June 15 2010). The joint venture offered THB29 (US$0.97) per Serm Suk share, representing a 44% premium to Serm Suk's April 16 2010 closing price as well as highlighting the strategic value Pepsi sees in Serm Suk and the Thai soft drinks market (see chart).
Losing one of the world's strongest global soft drinks brands (i.e. Pepsi) in its beverages portfolio certainly would not bode well for Serm Suk's revenue growth, at least in the near term, suggesting that Serm Suk might look to find a compromise with PepsiCo. With Serm Suk currently producing and distributing only PepsiCo's beverage brands, the Thai company will need to establish distribution arrangements with other suppliers or start producing its own range of beverage brands to secure new avenues of growth. The search for a new supplier may be a lengthy process for Serm Suk and the company may yet again struggle to secure favourable trade terms for itself with its new suppliers.
Moreover, Serm Suk will need to plough in substantial capital expenditures should it look to develop its own range of products. Unsurprisingly, investors seem to be wary of Serm Suk's future prospects, given the aforementioned challenges the Thai company could face upon the expiration of its bottling agreement with PepsiCo, as Serm Suk's share price declined by 2.6% following the company's announcement that it is looking to cease its bottling arrangements with PepsiCo.
BMI's food and drink reports feature a market assessment and independent 5-year forecasts for food and drink expenditure by product category, consumption, sales, imports and exports, and for the mass grocery retail sector. The reports also include analyses of latest regulatory developments, the background macroeconomic outlook, and competitive landscapes comparing multinational and national companies by leading products and services, sales, investments, partners and expansion strategies.
Related Reports:
To order the report or ask for sample pages contact ps@marketpublishers.com
CONTACTS
The Market Publishers, Ltd.
Mrs. Alla Martin
Tel: +44 208 144 6009
Fax: +44 207 900 3970
ps@marketpublishers.com
www.marketpublishers.com