Global - Cisco Memorandum Highlights Investor Concerns
19 Apr 2011 • by Natalie Aster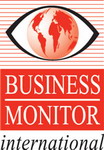 In an internal memo to employees that leaked onto the internet Cisco Systems' CEO, John Chambers, acknowledged that the networking solutions vendor lost its way by failing to adapt to the changing needs of the market and its inability to execute operationally has disappointed investors, confused employees and allowed customers to look to competitors with broader product portfolios. BMI strong> is taking this opportunity to assess Cisco's performance in the context of the company's core market and against the performance of the NASDAQ technology company index.
Cisco was one of the first high-tech companies to recover from the collapse of the dot-com bubble in the early-2000s and had, for many years after, been regarded almost as a model of resilience and inventiveness of the new broadband technology era. However, during the last 12 months, Cisco's stock fell out of favour with investors despite continued revenue growth and product enhancement. This is reflected in the accompanying chart, showing how Cisco's share price fell drastically while that of rival Juniper Networks has soared. Clearly, the networking equipment market has not soured, as Juniper's recent performance shows, and neither is confidence in the wider technology market showing any signs of weakening, as the NASDAQ's performance shows. Rather, the fault lies with the value proposition of Cisco.
Once the Market Bellweather, Cisco Is Now On A Deviant Course
12-Month Comparison of Cisco and Juniper Share Prices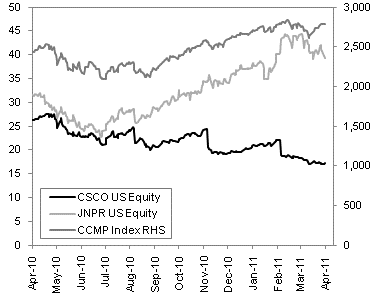 Source: Bloomberg
With interest in cloud computing and associated networking technologies at a high, this comes as something of a rude awakening for a company that prides itself on being a leader in next-generation solutions and forward thinking. Cisco is increasingly viewed as a laggard in innovation and somewhat inflexible in developing new solutions that meet customers' widely variable business models and network architectures. This prompted customers to turn to rivals such as Juniper for their specific and highly focused needs.
Chambers' memo outlines somewhat vaguely a four-point plan of action to turn the company's fortunes around as quickly and as effectively as possible. "We will fix what is not broken", he said, indicating that the company will continue to focus on its core routing, switching and services, collaboration, data centre virtualisation and cloud computing, as well as video. This implies that the company is not likely to enter new markets. BMI previously opined that a lack of presence in the storage space would leave Cisco's cloud computing ambitions exposed to strong competition from nimbler multipurpose rivals.
Secondly, Cisco "will take bold steps and make tough decisions". Other than acknowledging that a swift and comprehensive 'fix' is needed, Chambers' memo provided no details on how this might be achieved. BMI believes this could mean discarding product portfolios and solutions that are no longer regarded as being best-in-class and that job cuts may be in the pipeline. This could leave some long-term customers exposed, if ongoing technical and product support is removed.
Divergence Is a Recent Trend
Five-Year Comparison of Cisco and Juniper Share Prices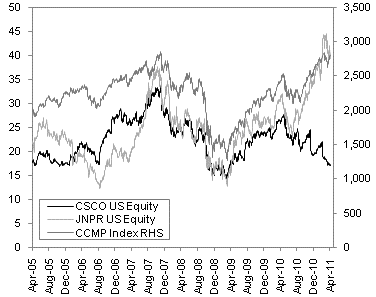 Source: Bloomberg
Step three will result in the company "accelerating our leadership" across five core areas of competence and it would "compete to win in the core". Here, Chambers acknowledges that customers are buying across broader segments and flagging up specific needs in the switching arena, with "fierce" competitors taking advantage of Cisco's inability to meet those needs. Cisco wants to keep its long-term technology customers and aims to give them the right reasons to continue using Cisco solutions. However, there were also few details regarding how this may be achieved. BMI suspects a more flexible and/or scaleable service licence fee may be under consideration.
Finally, Chambers said the company would make it easier for employees to work at Cisco, simplifying the way it works and how it focuses its attention on resources. "We will significantly rework our systems, tools and funding models to do this", said Chambers, highlighting the recent creation of a chief operations officer role as evidence of the company's commitment to change. BMI believes this suggests that the company may be planning to scale back middle management and allow its salesforce greater leeway in striking new deals.
"You will see Cisco make a number of targeted moves in the coming weeks", said Chambers. If these moves translate into headcount reductions and a rationalisation of its product portfolio, BMI believes this may be enough to prevent its share price from deteriorating further. But, for a real turnaround with long-term positive implications, we would look to greater innovation and flexibility in its next-generation products. We note the company's announcements regarding its unified data centre infrastructure fabric reaching from servers to storage through the cloud as a step in the right direction.
However, the cloud is just one area where Cisco needs to be active. In all other areas of the networking market, smaller nimbler competitors will be active and this will put pressure on Cisco to perform. We therefore may not see a marked recovery in Cisco's share price for some time to come, no matter how quickly remedial action is taken.
BMI's telecommunications reports feature independent 5-year forecasts on the future strength of each country's ICT market, covering fixed-line, mobile and internet segments, and analyses latest regulatory developments and corporate news, including investment activity, mergers and acquisitions, joint ventures and partnerships. All leading operators and manufacturers are fully profiled, highlighting their quarterly financial performance, capital expenditure plans and latest contracts.
Related Reports:
To order the report or ask for sample pages contact ps@marketpublishers.com
CONTACTS
The Market Publishers, Ltd.
Mrs. Alla Martin
Tel: +44 208 144 6009
Fax: +44 207 900 3970
ps@marketpublishers.com
www.marketpublishers.com