Global - Heineken to Fire Up Its Engines of Growth in Emerging Markets
15 Apr 2011 • by Natalie Aster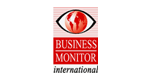 Despite having a substantial emerging market (EM) exposure, Heineken's continued dependence on the low-growth markets of Western Europe remains a perpetual drag on its headline growth. Before and during the economic tumultuousness period of 2008-2009, Heineken's unbalanced geographic footprint meant that the brewer has failed to sufficiently leverage on the higher growth prospects in EMs to offset declines elsewhere in its developed markets. While Heineken has acknowledged and taken steps to address its geographical disparity by acquiring the beer business of Mexico-based drinks producer FEMSA in early 2010, which provided a strong lift to its EM exposure (see chart), the brewer's latest financial results suggest that it clearly has a lot more work to do in EMs in order to deliver more dynamic growth.
Calibrating Towards EMs
2009 Revenue By Geographical Breakdown (LHS) and 2010 Revenue By Geographical Breakdown (RHS)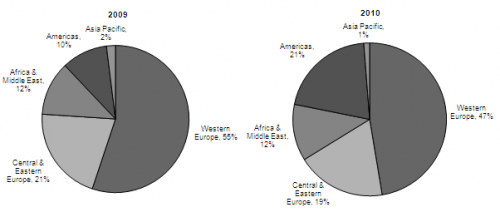 Source: BMI, Company Financials
As would be expected, Heineken's acquisition of FEMSA helped the firm register a strong increase in volume and sales for the year ending December 2010, which came in 21% and 9.7% higher respectively. However, the results also point to continued weak demand in the firm's traditional markets, with sales falling by 3.6% in Western Europe - a region where the brewer still generates over 47% of its FY10 revenues. On an organic basis, Heineken's volumes fell by 1.7%, while value sales were down by 2.2%. It is therefore evident that while the expansion into Mexico has gone some way to helping the firm become a more dynamic business, further investments in EMs may be needed if Heineken is to match the long term growth of its more EM-focused peers such as SABMiller.
Building On Value Growth in Developed Markets…
With this in mind, we would expect Heineken to adopt a two-pronged approach of building its presence in EMs while continuing to harness the strong value growth prospects in its developed markets. While there is no doubt that EMs represent massive opportunities for Heineken, the brewer's fortunes are still realistically tied to the stagnating markets of Western Europe and it simply cannot afford to give up on the region. Although beer consumption is largely stagnating across most countries in the Western European region, these markets are nonetheless supportive of earnings growth, thanks to high consuming levels, and this is underlined by the region's increasing demand for higher-end specialty and craft beers over the past few years. Given the strength of craft and specialty beers and their strong contribution to value sales growth, Heineken will look to harness the growing appreciation of specialty and regional beers to try and revitalise its European growth.
…But Heineken's Future Clearly Lies in Ems
Of course, with the sensational EM demand story expected to play out over the next few decades, Heineken must continue to reweight its exposure towards the higher-growth EMs to secure long-term success. Sub-Saharan Africa, in particular, is a pivotal EM play for Heineken given the fantastic long-term opportunities the region has to offer and the brewer's dominance in Nigeria, which is arguably the most exciting market in West Africa.
A large population and fast-growing disposable incomes in Sub-Saharan Africa will continue to provide a firm impetus to consumer spending over the long horizon and Heineken will want to entrench itself deeper in the region's exciting demand story.
Margins Way Better In Africa
Selected Companies Historical Operating Income Margins (%)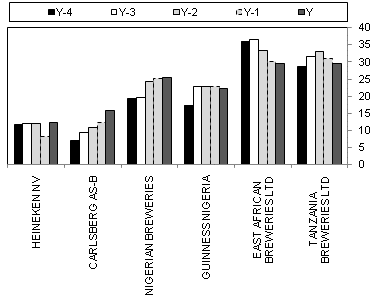 Y = last financial year, Y-1 = previous financial year etc. Source: Bloomberg, BMI
Significant, however, is Heineken's strategy in the region, particularly in West Africa. While most of the global brewers have focused on consolidating mass-market volume sales in the less-affluent developing countries, under the assumption that tying up the market now is essential for securing big profits later on, Heineken tried a different tack of focusing primarily on the premium segment of the Western African market, where given the size of the market, there has been more than enough scale around to make it an effective approach. Nigeria and indeed much of West Africa has arguably yet to witness the low cost beer revolution gripping much of East Africa in particular. With incomes growing considerably in Africa, and thus allowing more people to spend on branded beer, the consumer base for Heineken's branded beer products should expand greatly and place significant momentum behind the brewer's earnings growth in the years to come. As the accompanying chart shows, Heineken's Nigerian subsidiary Nigerian Breweries has particularly fat margins when you compare to say Carlsberg and Heineken, underlining the strong demand for premium beers in Nigeria.
Elsewhere in the developing world, expansions in Asia and Latin America are likely to figure prominently in Heineken's growth strategy as well. As incomes grow in these EM economies and consumers become more and more susceptible to premium brands, there are going to be huge opportunities for growth for Heineken (see chart). In our opinion, a balanced portfolio, that is one that catered to both the mass-market and premium end of the alcoholic drinks market, would represent the best chance of achieving dynamic long-term growth in these markets, and Heineken is certainly poised to do so with the diversity of its brands in these markets. In Asia, for instance, with every consumer trading up to its premium Heineken brand, a new consumer could emerge at the economy end, ensuring continued strong demand for its cheaper brands such as Tiger beer, and thus keeping volume growth as robust as value growth for a time.
EMs Is The Place To Be
Revenues and Volumes Growth (Organic chg % y-o-y)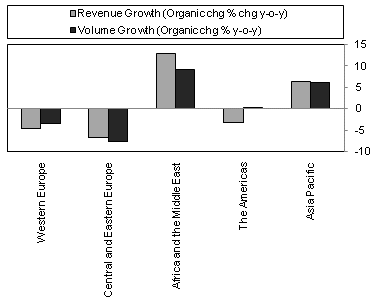 Source: Bloomberg, Company Financials. Financial Year End December 2010.
Acquisitions to Remain a Favored Mode of Expansions
While Heineken will continue to expand its production capacities in the aforementioned EMs to meet the robust increases in demand, further mergers and acquisitions (M&A) activity, particularly in Latin America, appear likely to remain on the cards. Heineken's recent acquisitions of a 37.5% stake in United Breweries, a 100% stake in FEMSA Cerveza and controlling interests in five breweries in Nigeria clearly demonstrates the brewer's preference of expanding through acquisitions, given the instant scale provided through such an expansion mode.
Heineken - Reasonably Strong Financing Capacity
Selected Companies Interest Coverage Ratio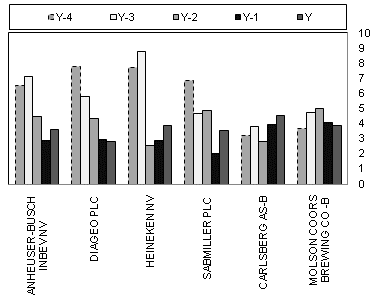 Note: Y=last financial year, Y-1 = the preceding financial year etc. Source: Bloomberg
Looking ahead, Latin America is likely to be a key focus of its future M&A activities as it looks to build on the foothold secured through the acquisition of FEMSA's brewing business. The acquisition of FEMSA made Heineken a leader in the Mexican market and also gave it a toehold in the extremely attractive Brazilian market. A recent report in the Sunday Times suggested that SABMiller and Heineken are both contemplating bids for Brazil's second largest brewer by volumes Primo Schincariol. Although both brewers have yet to confirm this report, we think that Heineken is likely to be most interested from a strategic point of view and could potentially exercise its financial muscle to consolidate the Latin American market through acquisitions (see chart).
BMI's food and drink reports feature a market assessment and independent 5-year forecasts for food and drink expenditure by product category, consumption, sales, imports and exports, and for the mass grocery retail sector. The reports also include analyses of latest regulatory developments, the background macroeconomic outlook, and competitive landscapes comparing multinational and national companies by leading products and services, sales, investments, partners and expansion strategies.
Related Reports:
To order the report or ask for sample pages contact ps@marketpublishers.com
CONTACTS
The Market Publishers, Ltd.
Mrs. Alla Martin
Tel: +44 208 144 6009
Fax: +44 207 900 3970
ps@marketpublishers.com
www.marketpublishers.com