Global Oil and Gas Capital Spending in 2011- Insights and Trends
04 Apr 2011 • by Natalie Aster

Global oil and gas capital expenditure is expected to be stable in the next four to five years. After witnessing a strong growth in 2007 and 2008, the global financial downturn has led to a sudden dip in the global capex in 2009. The impact of recession was felt on all the regions across the globe, with North America facing the largest reduction in capex. Economic recovery and strengthened oil prices have boosted the confidence of oil and gas companies, investors and credit markets. This has encouraged companies to take up even the capital intensive and long term projects.
LNGreports' new research analysis "Global Oil and Gas Capital Spending in 2011- Insights and Trends" reveals that the global oil and gas capital spending is likely to stand at $841 billion in 2011, signifying that most markets are looking ahead for capturing the increasing energy demand. The comprehensive report provides in-depth analysis and forecasts of region wise, country wise, company wise and sector wise capital spending between 2005 and 2011. The report also analyzes five leading upstream investment areas and identifies all major midstream and downstream projects.
Report Details:
Global Oil and Gas Capital Spending in 2011- Insights and Trends
Published: March 2011
Pages: 106
Price: US$ 5,000.00
Report Sample Abstract: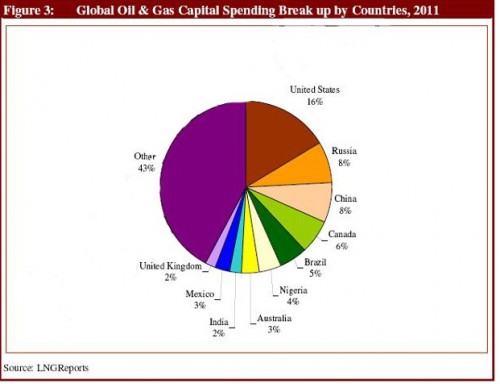 Historically, North America had the largest oil and gas capex among all the regions. However, as the region was largely affected during recession times, Middle East and Africa has emerged as the leading market in terms of capital spending in 2011. Europe, on the other hand, is slowly recovering from the recession effect.
North America was the worst effected region during recession. Unavailability of credit, tight financial and equity markets discouraged most non-integrated companies from taking up new projects. Medium and large oil and gas companies also opted for cautious approach towards investment. Oil and gas demand also decreased in the region, leading to lowered investments in infrastructure.
However, revival of global demand and technological advancements in exploitation of unconventional resources is encouraging investments from oil and gas companies. US shale gas industry, Canadian oil sands industry and Mexican midstream sectors are all expected to witness huge investments in 2011. Further, ease of credit availability is also encouraging small companies and equipment, service providers to invest in the industry.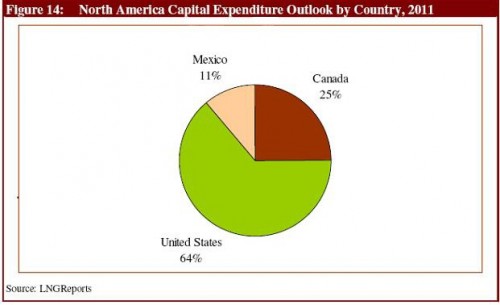 India Capex, 2005-2011
India is one of the fastest growing economies in the world, which is driving the demand for primary energy in the country. Accordingly, the country is investing heavily in pipeline & storage infrastructure and LNG import terminals. The government of India is also encouraging exploration activities in the country through initiatives like NELP programs. Further, as the country aims to emerge as the leading petroleum products exporting hub in the world, it is also increasing investments in refinery expansions, upgrading and newbuilds.
New Refinery Start up Projects in 2011
Stable oil prices, positive demand outlook coupled with growth in refining margins is encouraging a large number of companies to go ahead with their planned midstream and downstream projects. Asia Pacific and Middle East in particular, are expanding their refining capacities to cater the export markets. On the other hand, North America and Europe have limited or no refinery expansions planned in the near future.
More information can be found in the report "Global Oil and Gas Capital Spending in 2011- Insights and Trends" by LNGreports.
CONTACTS
The Market Publishers, Ltd.
Mrs. Alla Martin
Tel: +44 208 144 6009
Fax: +44 207 900 3970
ps@marketpublishers.com
www.marketpublishers.com