Global Biosimilars: Identifying 2nd Generation Opportunities
01 Feb 2011 • by Natalie Aster

"The report forecasts that for EPO, G-CSF and HGH, total biosimilar product sales by 2015 are estimated at US$342 million, of which US$159 million is in the USA and US$183 million outside it. EPO is the largest product category, at US$230 million in total. Beyond 2015, new products will appear which will significantly increase these estimates."
The new, richly-detailed report "Global Biosimilars: Identifying 2nd Generation Opportunities" by Espicom Business Intelligence addresses the key issues of concern and provides insights into how the sector may practically develop.
Leading Human Insulin Brands, % Change, 2002-2009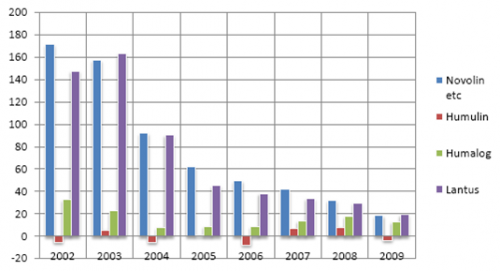 Report Details:
Global Biosimilars: Identifying 2nd Generation Opportunities
Published: January 2011
Pages: 194
Price: US$ 2,265.00
Report Sample Abstract:
Teva Pharmaceutical Industries
Teva Pharmaceutical Industries is the largest generic drug manufacturer in the world, with global revenues of US$13.9 billion in 2009. The company is headquartered in Israel, but has a leading presence in the US market, where it claims to be the number one drug company in terms of prescriptions filled. As well as generics, Teva has a lucrative innovative drug portfolio headed by Copaxone (glatiramer acetate), a treatment for MS.
The company has long championed the development of a competitive biosimilar industry. Teva has acquired much of its biotech capacity through a number of takeovers and mergers, principally Sicor UAB in Lithuania and Lonza in Switzerland. Teva also acquired significant biotech capacity through its purchase of Barr Laboratories in 2008. This brought with it the Barrowned Pliva, based in Croatia. Pliva had its own biotech plant, but Teva has now sold this to Hospira as being surplus to current requirements.
Teva has also worked with the ratiopharm subsidiaries BioGeneriX and Merckle Biotech. The pending takeover of ratiopharm by Teva will bring this capacity in-house.
Tevagrastim/Neutroval
Only one product however to date has been launched: Tevagrastim (G-CSF). This was approved in Europe in September 2008, and has been launched throughout the major EU markets over the past year. The UK launch, for example, was in November 2009.
In the USA, Teva has often voiced the opinion that the development of a biosimilar pathway has been too slow, and will prove too restrictive once it finally comes into operation. For some years the company has been talking about filing a full BLA for its filgrastim product in the US, rather than wait for the FDA to develop an abridged procedure. The company finally did this in February 2010. The product is named Neutroval in the USA, although it is the same as Tevagrastim. In September 2010, the FDA informed that the BLA was non-approvable without the supply of further information. At the time of writing, neither the FDA nor Teva has given any details of what this information may be, beyond the fact that more clinical trials are not being requested. It is therefore difficult to judge the prospects for successful registration of Neutroval.
Rituximab
In 2010, Teva and Lonza have published details of two Phase I/Ib clinical trials for the development of a biosimilar version of rituximab, sold by Roche as Rituxan/MabThera, and one of the world's bestselling biologic drugs. The first 60-patient trial will be conducted in Berlin, Germany, and at three sites in Hungary. It is expected the trial will run until mid 2011. Its primary aim will be to compare the pharmacokinetics of Roche's original with the biosimilar, which is currently named TL011, with regard to rheumatoid arthritis.
The second trial is scheduled to start in September 2010, with an estimated enrolment of 200 patients at locations in Belgium, Hungary, Italy, Latvia, Poland, Russia, Spain and Ukraine.
Completion is estimated in December 2012. The purpose of this prospective, international, multicentre trial is to assess and compare the pharmacokinetics, pharmacodynamics and the safety of Roche/Genentech/Biogen Idec's MabThera/Rituxan (rituximab) and TL011, in combination with CHOP (cyclophosphamide, doxorubicin, vincristine and prednisone) in previously-untreated patients with diffuse large B-cell lymphoma. In the study, patients will be assigned TL011 or MabThera, both at 375mg/m2 intravenously every three weeks for eight cycles.
More information can be found in the report "Global Biosimilars: Identifying 2nd Generation Opportunities" by Espicom Business Intelligence.
To order the report or ask for sample pages contact ps@marketpublishers.com
CONTACTS
The Market Publishers, Ltd.
Mrs. Alla Martin
Tel: +44 208 144 6009
Fax: +44 207 900 3970
ps@marketpublishers.com
www.marketpublishers.com