Leap Wireless - Customer Loyalty and Retention
22 Oct 2010 • by Natalie Aster
London - Leap views churn as an inevitable part of its business with an all prepaid and predominantly low-income customer base. As such, the company doesn't put a lot of time or energy into developing customer loyalty or retention programs for its customers. Leap believes that the three main reasons for its high churn rate are: network coverage, ability to pay, and handset selection. With its new nationwide agreements, the company has improved its coverage and minimized the impact of domestic roaming charges it passes on to its users. With its customer base expanding and more national retail distribution of its PayGo product, the company will need to be more aggressive in order to maintain coverage expectations of a less localized and more mobile audience. To address handset selection issues, the company will introduce two smartphones and improve its feature phone selection in 2010.
With no loyalty programs in place, Leap is missing a significant opportunity to reduce churn and gain an advantage over competitors by retaining a larger proportion of its new customers. Leap should look closely at applying some of its flexibility on pricing towards designing programs that demonstrate savings and value while also encouraging customers to remain with Leap for the longer haul.
While not a customer loyalty program per se, Leap's BridgePay program is an innovative way to help retain customers who would otherwise churn because of an inability to pay their monthly bill. Leap introduced BridgePay in 2009, in the height of the US recession, to allow customers who were unable to pay their monthly bill to catch up by making incremental installment payments over the course of two to four weeks during the current billing cycle. While most competitors would be happy to see these customers churn to another carrier, this program underscores Leap's commitment to the underserved, low income segment of the prepaid market, and is something that the company can leverage as a positive differentiator with competitors.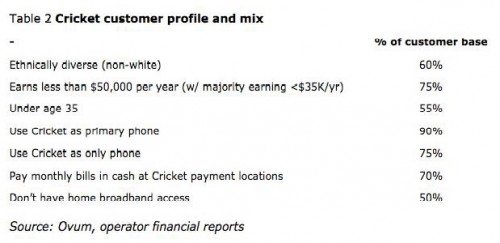 The report "Leap Wireless" by Ovum provides with the market overview of Leap Wireless, a regional mobile network operator in the US, operating under the Cricket wireless brand and specializing in prepaid monthly flat-rate voice, text, and mobile broadband services.
Report Details:
Published: June, 2010
Pages:19
Price: USD 1495
Report Sample Abstract on Leap Devices:
Leap currently has 11 wireless handsets and two mobile broadband USB dongle devices available. Wireless phones range from refurbished basic 12-button phones, available free with a mail-in rebate and new service, to higher end, full feature phones with qwerty keyboards at $129 after discount and mail-in rebate. Leap's voice and text heavy customers demand less variety than many competitors. qwerty keyboards that enable efficient texting are in the highest demand among Leap customers.
The company's addition of smartphones, planned for later in 2010, will provide a welcome addition to the company's device portfolio which currently lacks a smartphone device choice. In mid-2010, Leap plans to introduce an Android device and a Blackberry device to its handset line-up. The company also works closely with Samsung, a strategic OEM partner, to provide customers with feature rich and conservatively priced handsets.
To order the report or ask for sample pages contact ps@marketpublishers.com
Contacts
MarketPublishers, Ltd.
Mrs. Alla Martin
Mrs. Alla Martin
Tel: +44 208 144 6009
Fax: +44 207 900 3970
ps@marketpublishers.com
www.marketpublishers.com