Global - Global Oil Market Review Q310
20 Oct 2010 • by Natalie Aster
LONDON. Regaining Momentum - As with Q2, the third quarter started with encouraging oil market strength, which then dissipated rapidly. If anything, oil market fundamentals improved, with demand assumptions rising. The US driving season was disappointing, but the real damage was done as macroeconomic uncertainty crept back into the market and investors turned their backs on oil. Ongoing eurozone economic woes, fresh China jitters and a general sense of macroeconomic fragility meant that oil prices were dragged lower with equities and currencies. We remained convinced that there would be a belated rally, as the world heads towards winter in a higher-demand quarter. Thus far, our confidence has been rewarded by a recovery that began in September and accelerated into October.
Demand projections for 2010 continued to firm up during the third quarter, with some upgrades coming through for 2011, even though the jury is out regarding the strength and sustainability of the economic recovery. After rising steadily in the first half of the year, OPEC volumes appear to have levelled out in Q3. The organisation has done and said little to change the supply/demand landscape, although some members at the October 14 ministerial gathering were arguing the case for a US$100/bbl target to compensate for the weakening of the US dollar that is undermining their revenues.
According to the International Energy Agency (IEA) in its October 2010 monthly Oil Market Report (OMR), OECD end-August commercial oil inventories stood at 2,790mn bbl, their highest level since August 1998. However, a very significant fall looks to have been recorded in September - a period when a small stock rise is the norm. With demand having strengthened and supply having stalled, a continuation of this inventory trend could support an oil price recovery throughout Q4.
September saw global oil supply fall by some 150,000 barrels per day (b/d), according to the IEA. Non-OPEC producers saw volumes fall during the month, while a modest increase in OPEC production failed to compensate. Crude oil supply from OPEC averaged 29.3mn b/d in September (IEA estimate), up 40,000b/d on the previous month. Much of this increase, however, reflects Iraqi output gains, with the 11 core members actually reducing supply by some 150,000b/d. Quota compliance of around 54% is a definite improvement on the year's low of around 50%, even if well short of the 59% historical OPEC 'norm'.
Non-OPEC supply in September fell by just 20,000b/d, with the US hurricane season doing little to disrupt output. During the third quarter, non-OPEC supply was fairly stable when compared with Q2 - and not significantly above the Q1 level. Output of around 52.6mn b/d in Q3 compares with 52.7mn b/d in Q2 and 52.3mn b/d in the opening quarter of the year. September volumes are put at 52.4mn b/d.
Given positive demand-side developments, a capping of recent supply growth and some evidence of a fall in stock levels, it is hardly surprising that the end of Q3 saw oil prices gain ground. At the time of our July 2010 quarterly oil price report, the OPEC basket was just below US$73/bbl. It reached almost US$79/bbl in early August, before collapsing to less than US$70/bbl later in the month. September then saw a steady increase from around US$72/bbl to US$77/bbl, with momentum being retained into early October and the OPEC price reaching US$80/bbl by the time this report was written.
Quarterly Trends. The Energy Information Administration (EIA) in its October 2010 monthly report suggested that Q310 global oil demand was 86.22mn b/d, compared with 86.18mn b/d in Q210 and 84.56mn b/d in Q309 (+1.96% y-o-y). Non-OECD demand is reported at 41.02mn b/d, compared with 41.22mn b/d in the previous quarter and 39.59mn b/d in Q309 (+3.61% y-o-y). The OECD states saw a 0.24mn b/d quarter-on-quarter rise in consumption during Q310, with demand amounting to 45.20mn b/d. In Q309, OECD demand was 44.97mn b/d, based on EIA data.
According to the Paris-based IEA, Q310 global consumption averaged 87.60mn b/d, compared with 86.76mn b/d in Q210 and 85.19mn b/d in Q309. The y-o-y change was put at +2.83%. OECD demand in Q310 is reported at 45.97mn b/d, compared with 45.22mn b/d in Q210 and 44.99mn b/d in Q309. Non-OECD consumption in Q310 was reportedly up 3.58% y-o-y at 41.64mn b/d. In Q210, non-OECD consumption was 41.55mn b/d.
OPEC's October 2010 monthly oil report puts Q310 global oil demand at 85.87mn b/d, up from 84.91mn b/d during the previous quarter and up from 84.75mn b/d in Q309 (+1.13%). OECD demand is said to have risen by 0.2% y-o-y to 45.19mn b/d, with North American consumption higher by 0.4%. Non-OECD demand was up 2.31% y-o-y to 40.68mn b/d, according to the OPEC data.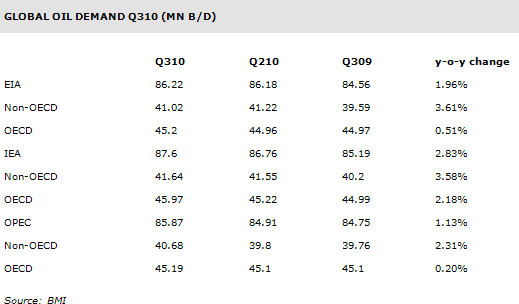 The EIA Q310 estimates suggest that non-OPEC oil supply was 51.43mn b/d, compared with the Q210 level of 51.48mn b/d and the 50.49mn b/d recorded in Q309 (+1.86% y-o-y). Russia, the US and China were significant contributors to the supply increase. OPEC output for Q310 is put at 35.06mn b/d (including natural gas liquids), up from 34.69mn b/d in Q210 and the 34.24mn b/d delivered in the third quarter of 2009.
Global Q310 production based on IEA data averaged 87.04mn b/d. This compares with 86.76mn b/d in Q210. The non-OPEC element for the most recent quarter is 52.57mn b/d, easing lower from 52.74mn b/d in Q2. Overall OPEC volumes, including gas liquids, are said to have risen from 34.01mn b/d to 34.47mn b/d between Q210 and Q310.
OPEC itself states that non-OPEC oil supply averaged 52.03mn b/d in Q310. OPEC crude output was assessed at 29.12mn b/d during the quarter, with the cartel pumping an average of 29.08mn b/d in September.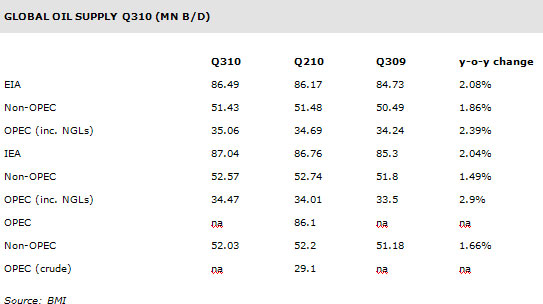 Relevant Infrastructure reports by Business Monitor International :
Each of the reports:
features independent 10-year forecasts for oil and gas and LNG, covering all major indicators including reserves, production, consumption, refining capacity, prices, export volumes and values;
covers all key global developments influencing company strategy and market dynamics in all significant producer and consumer states;
gives the close connections between the oil and gas and power industries and broader macroeconomic prospects, the analysis and forecasts are closely integrated with BMI's Country Risk and Power services. At its heart are BMI's proprietary five- and 10-year country forecasts.
To order the report or ask for free sample pages contact ps@marketpublishers.com

Contacts
MarketPublishers, Ltd.
Mrs. Alla Martin
Tel: +44 208 144 6009
Fax: +44 207 900 3970