New publications: Chemicals and Materials Market
14 Mar 2022 • by Natalie Aster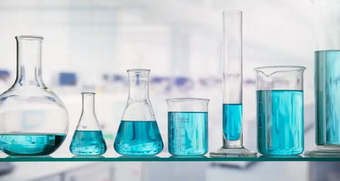 Chemical industry is one of the oldest industries within manufacturing. It not only plays a crucial role in meeting the day to day needs of the common man, but also contributes significantly towards industrial and economic growth of a nation. The global chemical industry, estimated at U.S. $2.4 trillion, is one of the fastest growing sectors of the manufacturing industry. It also shipped 3.4 billion dollars worth of chemicals globally across regions in 2009. The global chemical industry has seen a significant structural change in the last few years–Shift of manufacturing locations to Asian countries, new emerging growth markets, new technology as well as the all-encompassing impact of the global economic crisis coupled with rising raw material costs. During the last two years, the commodity/bulk and the specialty chemicals segments have undergone sharp declines in demand and margin as a result of the global economic crisis. It is expected that chemical demand is expected to be back in developed markets though less significant than Asian demand. All the chemical majors expect higher sales growth of their chemical products would be coming from emerging markets such as China, India, Brazil and Korea. The Middle East has also seen a lot of investments, M&As, attracting new capacity, given its significant potential advantage in low cost hydrocarbon feed stocks mainly supported by near access to Crude oil. This is primarily due to higher GDP growth rates attributed to economic growth and new application development areas in these regions. The global chemical industry will retain a strict focus on managing cash flow, controlling operating rates as well as securing raw materials globally. Key challenges remain regulations and carbon emissions policies which are pushing companies towards greener products and do away from petro chemical based feed stocks.

MarketsandMarkets have scheduled syndicated reports as per industry needs and some of report focus areas are petrochemicals, specialty chemicals, agro- chemicals, renewable chemicals, Traditional and biodegradable plastics ,resins, paints & coatings ,water treatment chemicals and a host of other related chemical categories. Chemical analysts also focuses on analyzing trends in the related downstream markets and evaluating the impact that these trends will have on the use of chemicals. We have displayed our expertise by partnering with Fortune 500 clients to provide tailor-made consulting projects within client's product portfolio.

Our report expertise includes assessing new market opportunities & market sizing, identifying and evaluating complex global value chains (including key drivers, restraints and winning strategies). We have also expertise in raw material tracking and analysis, cost, price trends & forecasting. There is a dedicated team for company profiles and competitive landscape on an on-going basis. All our reports cover major geographies like North America, Europe, Asia Pacific (includes Japan) and emerging economies in Asia and Latin America. With wide range of chemical industry reports and expertise in tracking & analyzing the industry activities on regular basis, our research team makes comprehensive reports on its own and also in collaboration with subject matter experts. We have access to industry recognized secondary databases which helps us to give accurate and authentic information about key chemical industry trends. The report captures in-depth strategic insights on crucial topics which helps our clients make their informed decisions.
The new publications:
Face Mask Market - Global Forecast to 2027
Amorphous Polypropylene Terephatalate Market) - Global Forecast to 2026
Adhesives & Sealants Market - Global Forecast to 2026
Adhesives & Sealants Market - Global Forecast to 2026
High-Performance Fluoropolymers Market by Type(PTFE, FEP, PFA/MFA, ETFE), Form(Granular, Fine Powder & Dispersion), Application, End-use Industry(Industrial Processing, Transportation, Electrical & Electronics, Medical) & Region - Global Forecast to 2026
The global high-performance fluoropolymers (HPF) market size is estimated to be USD 3.7 billion in 2021 and is projected to reach USD 5.1 billion by 2026, at a CAGR of 6.8%. The growing demand for the polymer from numerous end-use industries due to its new application development and increasing use in PV installations are major driving factors for the high-performance fluoropolymers industry growth.
COVID-19 Impact on the market
HPF are used in end-use industries such as transportation, electrical & electronics, medical, food processing, chemical processing, oil & gas, power plants, and building & construction. They are used in the industrial processing, where high thermal and chemical resistance is essential to conduct the operation. Due to the ongoing pandemic, industrial production has been severely affected throughout the world. Workforce shortage, logistical restrictions, material unavailability, and other restrictions have drastically slowed the growth of the industry.
COVID-19 has led the industrial and manufacturing sectors into an unknown operating environment globally. Government restrictions on the number of people that can gather at one place have severely impacted the sector. For example, the component manufacturing sector is heavily hit by the impact of the virus. The production and factory operations in the automotive, electronics, and aerospace are on halt. Most of the industries are dependent on China for raw material supply. Hence, supply chain disruptions also have a major impact on industrial output. The global economy contracted due to the pandemic but since most of the economies have opened, there is a rise in the industrial output in various sectors and may get completely recovered in coming years.
Point-of-Use Water Treatment Systems Market by Device (Tabletop, Faucet-mounted, Countertop) Technology (RO, Ultrafiltration, Distillation, Disinfection, Filtration), Application (Residential & Non-Residential) & Region - Global Forecast to 2026
The global point-of-use water treatment systems market size is projected to grow from USD 16.2 billion in 2021 to USD 25.3 billion by 2026, at a CAGR of 9.3% from 2021 to 2026. The point-of-use water treatment systems market is expected to witness significant growth in the future due to the increasing demand for clean drinking water, increasing water contamination, growing human population, growing awareness about the benefits of water treatment, and technological innovations in the water treatment industry.
COVID-19 Impact on the Market
During the COVID-19 pandemic, people are more concern about their health and are taking the utmost precautions for their safety. Also, the work from home culture has leads to the increase in the demand for point- of- use water treatment systems in the residential sector. However, the high installation, equipment, and operation cost acts as the main restraint to the growth of this market. The point-of-use water treatment systems industry is experiencing overall growth due to health concerns, rising demand for high-quality drinking water, and increased customer access to point-of-use devices through retail channels. With stringent government regulations imposed by various countries, companies are focusing on manufacturing environmentally friendly point-of-use water treatment systems.
Face Mask Market by Nature (Disposable, Reusable), Material Type, Type (Surgical, Respirator), End-Use, Distribution Channel (Pharmacy & Drug Stores, Supermarket & Hypermarket, Specialty Stores, E-commerce) and Region - Global Forecast to 2027
The face mask market is projected to grow from USD 0.9 billion in 2019 to USD 25.1 billion in 2022 and then reduce to USD 3.0 billion by 2027. The projected CAGRs for these periods are 309.9% between 2018 to 2021 and an overall CAGR of -34.5% from 2022 to 2027. The primary reasons driving the growth of the face mask market include the outbreak of the COVID-19 pandemic, the rise in consumer awareness pertaining to the importance of face masks, and the surge in social media marketing to encourage a positive attitude towards wearing masks.
COVID-19 impact on market
The pandemic is estimated to have a positive impact on the global face mask market. This is mainly because of the increasing demand for face masks, as they prevent or slow down the transmission of life-threatening COVID-19 infections. Also, face masks have been employed as a public and personal health control measure against the spread of SARS-CoV-2. Their use is intended as personal protection against infection and as source control to limit transmission of the virus in a community or healthcare setting. The various impacts of COVID-19 are as follows:
According to the World Health Organization, mask production needs to be increased by 40% to meet global demand. As the pandemic has spread to over 213 countries, governments across the world are restricting exports of masks to fulfill domestic demand through increased production. This has resulted in shortages in countries that depend on imports. Thus, to meet the rising demand for masks, many companies worldwide are making efforts to increase the production of face masks.
As of early May 2020, 88% of the world's population lived in countries that recommended or mandated the use of masks in public; more than 75 countries had mandated the use of masks.