Join NCT Asia 2018 to Stay One Step Ahead of Increasing CBRNe Threats!
06 Sep 2018 • by Natalie Aster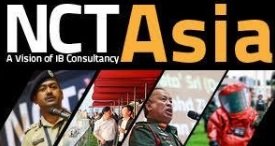 Organised by the CBRNe Society in collaboration with the Vietnamese People's Army Military Medical Department and the Vietnamese Agency for Radiation and Nuclear Safety (VARANS), NCT Asia 2018 will take place at the Sheraton Hotel Hanoi, Vietnam from the 9th to the 11th of October.
CBRNe stands for Chemical, Biological, Radiological, Nuclear, and explosive (CBRNe) threats. With nuclear power plants bordering the country and the IED threat in neighbouring Indonesia and Thailand, Vietnam is continuously developing its CBRNe response capabilities and has become one of the leading countries in Southeast Asian CBRN, EOD and demining defense. Following attacks using chemical agents in neighbouring Malaysia last year, the Vietnamese are investing heavily preparation for CBRNe incidents. There is no better place to be for CBRNe in the Asia region than Vietnam!
The CBRNe Society is honored to have the Assistant Secretary of Defense for Nuclear, Chemical and Biological Defense Programs at the US Department of Defense, Honorable Guy Roberts, opening NCT Asia 2018. With thirty years of experience, Mr. Roberts will share his perspective on the current security environment as well as key challenges and priorities.
The conference stream will be chaired by Col. Henry Neumann, Commander of the Bundeswehr CBRN Defense Command, Germany, and the following international figures will join the discussion on CBRNe threats:
H.E. Ly Thuch, Vice President and Secretary General of Cambodian Mine Action and Victim Assistance Authority, Cambodia;
Dr. Nguyen Manh Cuong, Deputy Director-General of the International Cooperation Department of the Ministry of Health, Vietnam;
Lt. Vincent S. Laca, Chief of the Counter Intelligence Group for the Coast Guard, Philippines
Col. (ret.) Wolfgang Widders, Senior Advisor for CBRN Protection Systems, Kärcher Futuretech, Germany;
Mr. Sanjay Kumar, Safety Manager of Delhi International Airport Limited, India;
Brig. Gen. Basant K. Ponwar, Inspector General, Chattisgarh Police & Director of Counter Terrorism & Jungle Warfare College, India;
Mr. George McKerrow, MIEXPE, CCTP, Director of Training, Mac 7, the US;
The conference and workshops will cover a wide-range of topics in the field of CBRN, C-IED and EOD including UXO and Landmine clearance in Post-Conflict Zones and CBRNe Capability Development in South East Asia. Vietnam has made many strides in overcoming a long history of landmine and explosive remanence of war (EWR) contamination and can provide key insights into CBRNe defense and response capabilities.
The full program, with all speakers and their bios can be found on www.nct-asia.com. For press accreditation, and planning of interviews with speakers and VIPs, please contact Ms. Marléne Meunier at +31 6 11 15 34 69 or by email at [email protected].
About the CBRNe Society
NCT events are organized by the CBRNe Society Foundation, an international non-profit organization. The purpose of the foundation is to develop and share knowledge, promote innovation and build bridges between relevant governmental, military, industrial and scientific stakeholders in the global CBRNe community.
The CBRNe Society addresses CBRNe challenges and threats through our highly successful NCT event series, taking place all over the world. In the past we have organized events in: The United States of America, Germany, Belgium, The United Arab Emirates (UAE), Jordan, Singapore, Malaysia, Thailand, Cambodia, The Republic of Korea, India, Colombia, Japan, and Qatar. Upcoming events will include: Brazil, and Austria.
For more information on past NCT events, please check the videos of past editions, which can be found on www.vimeo.com/ibconsultancy and pictures on www.facebook.com/ibconsultancy.
What is CBRNe?
CBRNe is the acronym for chemical, biological, radiological, nuclear, and explosive threats. In the past, it was primarily only used for the military but has now become a commonly used term within the civilian sphere. The addition of 'e' for explosive is the latest extension and it refers to (improvised) explosives.
Whereby CBRNe used to refer exclusively to warfare, later complemented by terrorism, today, CBRNe incidents include Hazmat threats such as toxic industrial chemicals and radiological incidents. Although the likelihood of a CBRNe incident occurring is relatively low, the impact on public health and infrastructure can be huge with the potential for a destructive effect upon global economic and political stability. The widespread use of chemical agents in the Syrian conflict and the Fukushima nuclear disaster are just two of the many examples. Attacks can also be more targeted, as in Kuala Lumpur with the assassination of Kim Jong-Nam, for example, and more recently in Salisbury, UK, when a former Russian military intelligence officer and his daughter were poisoned with a Novichok nerve agent.
CONTACTS
The Market Publishers, Ltd.
Natalie Aster
Tel: +44 208 144 6009
Fax: +44 207 900 3970
[email protected]
MarketPublishers.com