Rossmann Controls About 22% of Polish Cosmetics Market, Claims PMR
18 Apr 2013 • by Natalie Aster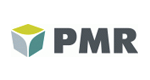 In 2012, Poles spent over PLN 19bn (€4.55bn) on cosmetics, with drugstore chains accounting for almost 37% of this amount and Rossmann for nearly 22%. In the period 2013-2015 a compound annual growth rate of over 4% may be expected, according to the report "Retail Market of Cosmetics in Poland 2013" by PMR.
As indicated by the results of PMR survey from January 2013, only 9% buyers consider their spending on cosmetics in 2012 to be lower than in 2011. According to 40% of the interviewees, those expenses increased year-on-year, while over half of the respondents are of the opinion that they remained unchanged. Three quarters of buyers spend up to PLN 100 (€24) a month on cosmetics.
Report Details:
Retail Market of Cosmetics in Poland 2013
Published: March, 2013
Pages: 174
Price: US$ 2,520.00
Cosmetics market growth driven chiefly by three distribution channels
"In fact, however, says Dominika Kubacka, PMR's analysts and the author of the report, only few companies benefit from the cosmetics market growth – those are mainly drugstore chains, primarily Rossmann and new players. In 2012 the cosmetics chains continued to grow, although at a slower rate than in 2010, while the rise in the total number of their outlets and in the number of stores operated by the key players was not higher than in 2011." A rapid sales expansion has also been observed in discount stores which are generally gaining in significance as Poles increasingly often choose to shop in such outlets, as well as in the internet, although this is still a minor part of the cosmetics market (less than 4%). The importance of supplementary channels, in turn, is gradually declining.
Value of the Cosmetics Market in Poland, By Distribution Channels, 2007 And 2012


Over the last five years (2007-2012) the cosmetics market in Poland grew by almost PLN 4.6bn (€1.1bn). At the same time the turnover of health and beauty care chains rose by PLN 3.9bn (€1bn), while the revenue of Rossmann itself hiked by PLN 2.6bn (€0.65bn). In a comparable period PLN 1bn (€0.2bn) was gained by the discount segment and PLN 0.5bn (€0.1bn) by online retail.
The fastest growing cosmetics distribution channels in Poland – drugstore chains, discounts and the internet together, already generate every second zloty spent on cosmetics in Poland. Cosmetics are purchased first of all in health and beauty care stores, especially in those being part of chains, but large area stores still represent 30% of the entire market.
Value of the Cosmetics Market in Poland, By Key Distribution Channels, 2007 And 2012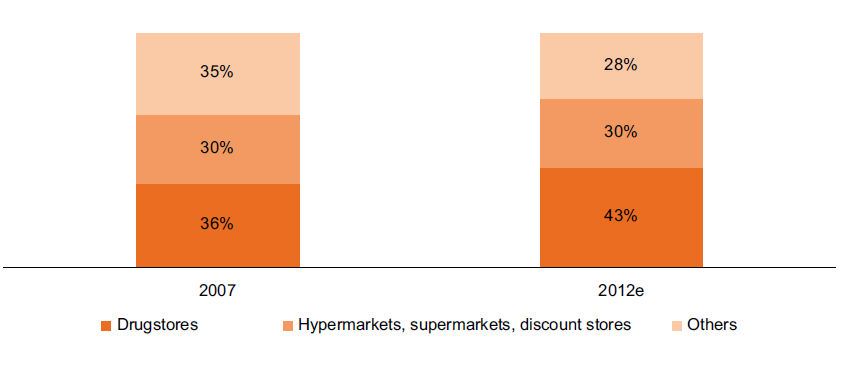 Rossmann strengthens its position on the cosmetics market
The results of the survey conducted by PMR in January 2013 on a sample of 405 cosmetics buyers leave no doubt that the drugstore chain Rossmann is the leader of cosmetics sales in Poland. Over half of the interviewees (54%) reported that they purchased cosmetics chiefly in this company's outlets.
Rossmann runs the largest drugstore chain in Poland, comprising over 700 stores. Additionally, in the years 2013-2014 it intends to accelerate its store opening plans (in nominal terms), so that at the end of that period it has a thousand outlets throughout the country. This entails the necessity to launch 150 new Rossmann stores per year, which is a much higher number than in the previous years – over the last three years the chain grew, on average, by 97 outlets per year. On the other hand, the relative increases in the number of Rossmann drugstores will remain at a level close to the one observed so far, i.e. about 20% y-o-y.
The success of the cosmetics market leader in Poland is not only a consequence of its rapid expansion but also of the consumers' growing acceptance for private labels. The sales of private labels have been expanding several times faster than the market, while customers consider such products to be not worse than their branded counterparts, as shown by PMR's survey carried out this year.
As a result, Rossmann already controls nearly 22% of the cosmetics market in Poland, more than half of the drugstore segment and 60% of chain stores, according to our initial estimates for 2012.
More information can be found in the report "Retail Market of Cosmetics in Poland 2013" by PMR.
To order the report or ask for sample pages contact [email protected]
Contacts
MarketPublishers, Ltd.
Tanya Rezler
Tel: +44 208 144 6009
Fax: +44 207 900 3970
[email protected]
MarketPublishers.com