Biosimilars and Follow-On Biologics: World Market 2011-2021
17 Oct 2011 • by Natalie Aster

Branded products dominate the Italian pharmaceutical market. The use of branded biologics is common and, as a result, the biosimilars market is only small, with total sales of $0.01bn in 2010. There is little incentive for doctors to prescribe generics, or for wholesalers to distribute them. However, recent reforms in pharmaceutical pricing are likely to increase the use of generics and, consequently, biosimilars in the market, visiongain predicts. In 2010, as part of healthcare budgetary cuts, the Italian government announced that it would only reimburse the cheapest version of a prescription drug. Additionally, reimbursement of oncology biologics in hospitals will now be based on the individual patient's response, with treatment being withdrawn from non-responding patients.
Government plans to cut the healthcare budget will drive growth in the Italian biosimilars market during the period 2011-2021. An increased need from payers for cheaper medicines will force doctors to prescribe more biosimilars, visiongain predicts. However, the rate of growth is dependent on the marketing employed by biosimilar developers. Doctors in Italy tend to show brand loyalty, so companies such as Sandoz and Teva will need to invest significant sums to educate healthcare professionals and patients on the comparable safety and efficacy of biosimilars.
The study "Biosimilars and Follow-On Biologics: World Market 2011-2021" by Visiongain covers drugs in the biosimilar medicinal product and follow-on protein product field. It forecasts revenues for monoclonal antibodies and anti-inflammatory fusion proteins (AIFPs), insulin, erythropoietins, interferons, granulocyte-colony stimulating factor (G-CSF) and growth hormones. The study shows revenue prospects for biosimilars and follow-on biologics at total world, submarket and national levels to 2021.
Report Details:
Biosimilars and Follow-On Biologics: World Market 2011-2021
Published: April 2011
Pages: 152
Price: US$ 2,350.00
Report Sample Abstract
A lack of awareness of the benefits of biosimilars will be one of the biggest restraints on market growth during the forecast period. Growth in the market will remain steady in early years of the decade and will increase rapidly as more doctors look to switch their patients to the cheaper versions of medicines. By 2016, the Italian biosimilars market will be worth $0.20bn and will have grown to $0.83bn by 2021. Throughout the forecast period, the market will grow with a CAGR of 49.4%.
Figure 7.10 Italian Biosimilars Market Forecast, 2010-2011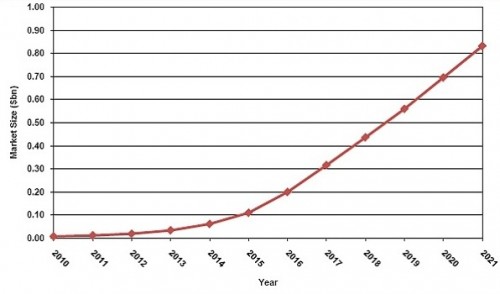 Source: Visiongain 2011
The Japanese Biosimilars Market 2010
In 2010, there were only two biosimilars approved in Japan. The first to launch was Sandoz' Somatropin BS in June 2009. This was followed by the launch of Epoetin Alpha BS by Kissei and JCR in May 2010. In the year ended 31 December 2010, uptake of these products was still low, with the Japanese biosimilars market having a value of only $0.03bn. Japan has seen lower penetration of biopharmaceuticals than Europe and the US. This is because of the complex and time-consuming approvals process in Japan, where foreign trial data is not accepted without qualification.
As a result of the slow uptake of branded biologics and the recent creation of a biosimilar approval pathway in Japan, biosimilar uptake currently remains low in the country.
More information can be found in the report "Biosimilars and Follow-On Biologics: World Market 2011-2021" by Visiongain.
To order the report or ask for sample pages contact ps@marketpublishers.com
Contacts
MarketPublishers, Ltd.
Tanya Rezler
Tel: +44 208 144 6009
Fax: +44 207 900 3970