Industry Trend Analysis - Islamic Insurance Boom in GCC but Consolidation Needed
03 Oct 2011 • by Natalie Aster
MI View: Demand for Islamic insurance does present opportunities in the UAE, but the overly competitive market currently has too many providers and this is undermining profitability. The consolidation of smaller insurers will accelerate in the short term. Islamic insurance is popular in the region, but it does not allow for much profiteering, restricts flexibility and slows expansion as capital for re-investment is restricted by profit sharing with clients. BMI therefore remains slightly cautious about the market, as Islamic insurers often focus on the top line, but not the bottom one.
Dubai Islamic Insurance & Reinsurance (Aman Insurance), the largest provider of Islamic insurance in the UAE, has launched two new health insurance schemes, 'Rishtey' and 'Health on Return'. These products are aimed at the UAE's non-resident Indian (NRI) population, which makes up around 40% of the total population. Rishtey offers health insurance for the families of NRIs in India, entitlement to a return air fare ticket to visit an insured dependant and eligibility to a free health check-up when visiting India. Health on Return offers coverage for an individual in both countries that can be carried freely between the two. Targeted packages like this are expected to perform well as they have identified a need and designed the product to fill it.
Islamic insurance is a rapidly growing industry in the Gulf Cooperation Council (GCC), a fact that is attested to by Aman Insurance growing their gross written premiums by 211% in a single year from AED196mn (US$53.4mn) in 2009 to AED611mn (US166.3mn) in 2010. Aman became the sixth largest insurer by gross written premiums and fourth largest by net premiums written (gross written premiums less outwards payments to reinsurers). Furthermore, demand for shari'a-compliant insurance will only have been bolstered by the introduction of laws in April 2011 making health insurance mandatory for all non-nationals in Dubai and Abu Dhabi, with the other states expected to follow.
Ranking Of Companies By Premiums, 2009 And 2010
Gross written premiums

Net premiums written *

Company

2009

2010

% change y-o-y

2009

2010

% change y-o-y

Oman Insurance

2,338

2,444

4.5

1,276

1,232

-3.4

Islamic Arab Insurance (Salama) 1

1,573

1,989

26.4

1,278

1,697

31.9

Abu Dhabi National Insurance Co

1,552

1,770

14

612

727

18.8

Arab Orient Insurance

1,002

1,128

12.6

271

298

10

Al-Buhaira National Insurance

692

651

-5.9

297

272

-8.4

Emirates Insurance

643

630

-2

211

237

12.3

Dubai Islamic Insurance
& Reinsurance (Aman)

196

611

211.7

260

477

32.5
Source: DFM, ADX, Insurance Authority
Islamic Insurance in the UAE
According to Clyde & Co, a regional law firm, the UAE passed new regulations for takaful insurance (Islamic insurance) that took effect on July 29 2010, as per Resolution 4/2010. Conventional insurers can no longer operate takaful policies, as operators must have shari'a supervisory committees, including at least three suitably qualified scholars. Furthermore, a national Supreme Committee for Fatwa and Shari'a Supervision has been empowered to issue rulings that apply to all takaful operators, while all shari'a-compliant insurance will be carried out via a wakala or a combined wakala/mudaraba model.
In the wakalah model, the profit from the policyholders' funds invested in the company goes to the client. The shareholders charge a fee for contributions that covers most of the expenses of business. The fixed rate is agreed annually in advance, in consultation with a shari'a committee. In order to give financial incentives, this management fee is related to the level of performance.
In the mudaraba model, the policyholders get a percentage of the company's profits. The ratio of profit division is determined in advance and is a function of the developmental stage and earnings of the insurer. The shari'a committee approves the sharing ratio for each year in advance.
Aman Insurance operates a joint wakala/mudaraba model with a management fee and a degree of profit sharing. Although shari'a insurance is rapidly growing in popularity in the Middle East, the structures that are required for it work do not allow for as much profiteering as a free market. Industry regulations restrict the flexibility of the companies to respond to healthcare price changes and will slow expansion as capital for re-investment will be restricted by profit sharing.
Insurance in the Middle East
The insurance sectors of Middle Eastern countries fall into two categories. The first is characterised by a relatively small number of oligopolists, whose positions may be formally protected by law or effectively protected by geopolitical issues (as in Israel and Iran). The second category is characterised by the large number of local players relative to the present market opportunity. Typically they are pure non-life companies, or non-life companies that derive a small portion of total income from life and healthcare products. Often they have a close association with a local banking or trading company that may assist with the procurement of business. The UAE, where local companies account for nearly 80% of the market, is a good example, as life and health insurance constituted only 16.3% of total gross premiums written - AED3.6bn (US$980mn) in 2010.
Total Premiums Charged In The UAE For The Life And Non-Life Sectors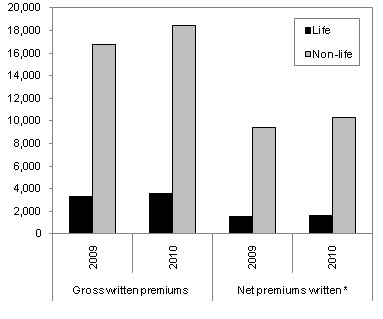 Source: DFM, ADX, Insurance Authority
The trade association for non-life, life and composite insurance companies in the UAE is the Emirates Insurance Association. As of June 2011, its membership includes 30 national companies, 26 international companies and 48 brokers. The list of international members is noteworthy because it does not just include global multinationals. Major multinationals with a presence in the UAE include MetLife ALCIO, Chartis, Generali, AXA, Friends Provident International, RSA, Tokio Marine Nichido, Zurich International Life (ZIL) and Zurich Life Insurance. The foreign members also include subsidiaries of Bimeh Iran, Adamjee Insurance (Pakistan), State Life (Pakistan), al-Ittihad al-Watani (Lebanon), Arabia Insurance, General Insurance Corporation, LIC, QGIC, QIC, The New India Assurance and The Oriental Insurance (all India).
The fairly fragmented UAE market is dominated, though not overwhelmingly so, by the local (and listed) insurance companies. Figures published by the Insurance Authority note that local companies consistently accounted for just over three-quarters of total premiums written from 2005-2009. In the life segment, the local companies' share of premiums has increased from 25% to 35% over that period, indicating that this is one segment where multinational providers had typically been stronger.
The Insurance Authority, one of the country's regulators, has said that 'possibilities abound to merge the companies', and apparently believes that consolidation is essential. BMI agrees as due to the fierce price competition in the market, most insurers made a loss in 2010 as they failed to forecast the above-inflation increase in the cost of healthcare. Furthermore, 104 health insurance providers and brokers is simply too many for a country of 4mn people and short-term consolidation is therefore inevitable.
Related Reports:
Kenya Insurance Report Q4 2011;
Slovakia Insurance Report Q4 2011;
Romania Insurance Report Q4 2011;
Russia Insurance Report Q4 2011;
Slovenia Insurance Report Q4 2011;
Poland Insurance Report Q4 2011;
Hungary Insurance Report Q4 2011;
United States Insurance Report Q4 2011;
Canada Insurance Report Q4 2011;
New Zealand Insurance Report Q4 2011.
To order the report or ask for sample pages contact ps@marketpublishers.com
Contacts
MarketPublishers, Ltd.
Tanya Rezler
Tel: +44 208 144 6009
Fax: +44 207 900 3970