Industry Trend Analysis - No End in Sight for Health Scheme's Troubles
30 Sep 2011 • by Natalie Aster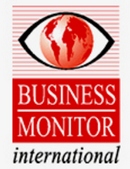 BMI View: Despite our generally positive outlook on Mexico's push towards universal access to healthcare, recent developments have suggested that weak and short-sighted procurement policies have allowed the country's public administrators to mismanage the country's largest health scheme.
Reports from Mexico reveal that the country's Institute of Security and Social Services for State Workers (ISSSTE) is looking to end an ongoing medicine shortage by introducing a temporary voucher scheme. The country's public unions had threatened to call a national protest unless the ISSSTE promised to compensate disgruntled patients by 10am on September 23, 2011.
The ISSSTE has faced distribution difficulties the last few months, but blames the supply issues on distributers, not incompetent state or local public officials. According to Antonio Vital Galicia, a member of the Health Workers Alliance, the ISSTE faces a backlog of about four months of medical appointments and is awaiting the arrival of 1mn prescriptions that are yet to be dispensed.
The Federal Agency's Francisco Robles announced on September 14 2011 that the state authority was on track to replenish its drug inventories and settle its outstanding financial obligations. Despite the ISSSTE's repeated assurances that suppliers will be repaid, BMI notes the scheme continues to face distribution problems. In fact, many of the country's public clinics and dispensaries have yet to receive medicine shipments, paying workers to dispense stock that simply does not exist. Norte Digital reported on September 22 2011 that pharmacies in Ciudad Juáre are stocking as few as three of the 130 medicines deemed essential by the ISSTE.
BMI reported on the medicine shortages in Mexico's public health scheme and dispensaries in late 2010. Jorge Aguilar Chedruai, head of Mexico's State Health Agency, has since said that measures have been taken to rectify the supply shortage, but local news reports hint that shortages have in fact spread, affecting an increasing number of public pharmacies in the centre and south of the country. Distribution problems have affected everything from ordinary cough to migraine medication, but BMI believes ongoing shortages and unreliable access have also hurt patients suffering from chronic illnesses.
According to the ISSTE's general director, Jesús López Villalobos, the shortages originate from previous attempts to streamline healthcare purchases by avoiding large inventories that could remain in storage for many years. In March 2009, the ISSSTE announced it had reached a MXN5bn (US$352mn) contract to supply the public sector with medicines until 2012. The tender, mainly for generic drugs, was initially touted as a positive development. It wasn't until the country's two largest pharmaceutical distributers, Nadro and Casa Saba publicly complained that the tender process preferred smaller, politically friendly companies that the government's procurement came into question.
Despite Push, Generic Sales Slow To Take Off
Mexico's Pharmaceutical Market Overview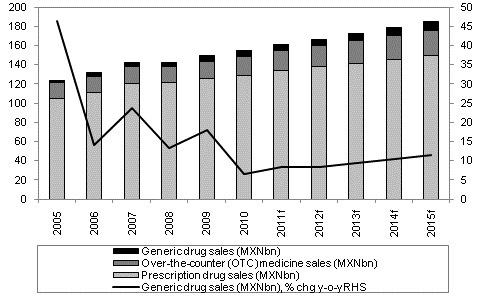 f = forecast. Source: BMI


A key determinant of growth within the Mexican healthcare market across all types of drug spending is that higher volumes of generic drugs will be sold, though in terms of value this contributes less than 5% to the total drug market. BMI calculates the value of the total pharmaceutical market in Mexico was worth MXN11.8bn (US$148.8mn) in 2010, with generic medicines accounting for close to 4.5% of total sales. We forecast the total market to increase to MXN16.9bn (US$175.1mn) by 2015 at a compound annual growth rate (CAGR) of 7.49% in US dollar terms (3.34% in local currency).
The country's rising public healthcare expenditure is largely attributed to the ongoing promotion and uptake of public health insurance schemes and thereafter, a continued rise in the utilisation of medical services. While the generic pricing policy in Mexico may be susceptible to various fluctuations, the main health and regulatory bodies are under pressure to save on costs where possible. Although cautious, BMI believes restructured health budgets can presage a more pro-generic drug policy - as long as the sector's growth is not limited by ongoing supply problems.
Related Reports:
Malaysia Pharmaceuticals and Healthcare Report Q4 2011;
Moldova Pharmaceuticals and Healthcare Report Q4 2011;
Serbia Pharmaceuticals and Healthcare Report Q4 2011;
Saudi Arabia Pharmaceuticals and Healthcare Report Q4 2011;
Peru Pharmaceuticals and Healthcare Report Q4 2011;
Hong Kong Pharmaceuticals and Healthcare Report Q4 2011;
Indonesia Pharmaceuticals and Healthcare Report Q4 2011;
France Pharmaceuticals and Healthcare Report Q4 2011;
Kuwait Pharmaceuticals and Healthcare Report Q4 2011;
Italy Pharmaceuticals and Healthcare Report Q4 2011.
To order the report or ask for sample pages contact ps@marketpublishers.com
Contacts
MarketPublishers, Ltd.
Tanya Rezler
Tel: +44 208 144 6009
Fax: +44 207 900 3970