Industry Trend Analysis - Pharmaceutical Trade Unlikely To Develop Rapidly Without Assurances of Quality
27 Sep 2011 • by Natalie Aster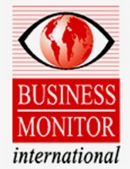 BMI View: While it is likely that the sale of Chinese-made pharmaceuticals in Russia will continue to increase in the coming years, we do not believe these producers offer the Russian market anything uniquely competitive. It is likely and advisable that Russia will prioritise pharmaceutical trade relations with more advanced trading countries, driven by the expectation that such partners will localise pharmaceutical production in Russia and provide the transfer of knowledge and skills pivotal to the development of the domestic Industry. Furthermore, we believe ventures with Indian drugmakers will be prioritised over Sino-Russia partnerships, as India can offer cheaper generic medicines, required for the market, but also ensure regulated, quality-assured products. The exception to this trend would be the establishment of new Chinese pharmaceutical facilities, backed by foreign capital and produced with Good Manufacturing Practice (GMP) certification. Unless China can offer assurances of the quality of its medicines, it is unlikely to become a major player in the Russia pharmaceutical market.
At the end of August 2011, as part of the Chinese government's general work deployment of 'Quality-improving Year of Foreign-Trade Commodities', a large delegation of Chinese pharmaceutical enterprises, organised by the China Ministry of Commerce visited Russia. The delegation held a conference on industrial cooperation between China and Russia, promoting Chinese pharmaceuticals.
Sino-Russia Relations - Russia Does Not See China as a Threat
BMI notes that 2011 marks an important year for Sino-Russian relations, representing the 10th anniversary of the Sino-Russian Good Neighbourly Treaty of Friendship and Cooperation, the 15th anniversary of the establishment of the Sino-Russian Strategic Partnership of Cooperation and the 10th anniversary of the Shanghai Cooperation Organisation. The relationship between the two countries began to warm following the fall of the Soviet Union in 1991. In addition to numerous formal treaties, relations have improved in recent years: at the end of 2010, it was announced that Russia and China decided to use their own national currencies for bilateral trade instead of US dollars, a move seen as a further improvement in relations between the countries. The official view of the Moscow government is that Russia and China are strategic partners and that rather than fear China's economic, political and military rise, Moscow welcomes it as a stabilising factor in Asia.
China Will Remain A Minor Player In The Russian Pharmaceutical Market
BMI notes that imports of finished pharmaceuticals from China to Russia are currently exceptionally limited. The latest UN Comtrade data from 2010 show Russian imports from China totalling US$32.9m, just 0.35% of the total imports in this category. This has increased rapidly in recent years - in 2006 the figure was just US$3.3mn, showing increasing demand for Chinese-made medicines though the overall consumption remains very low. BMI believes this figure will continue to rise, driven by demand for the cheapest generic medicines. However, we do not believe Chinese drugmakers offer the Russian market anything particularly unique. BMI believes the greatest inhibitor of China to Russia drug trade will be issues of quality assurance, the country has given its domestic producers a deadline of January 1 2014 to either comply with GMP regulations or be closed.
Historic Growth, But Limited In Absolute Terms
Finished Pharmaceutical Imports, China To Russia, US$mn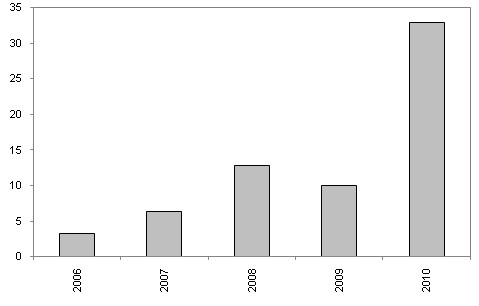 Source: United Nations Comtrade Database, BMI
The majority of Russian medicine imports are sourced from advanced European drugmakers. In 2010, Germany exported a total of US$1.8bn worth of medicines to Russia, with France not far behind with US$1.0bn. BMI notes that European drugmakers have been at the forefront of the localising of production facilities in Russia.[1] The drive to develop Russia's pharmaceutical industry was formalised with the conception of the Development of the Russian Pharmaceutical Industry to 2020 (known as Pharma-2020). Improving the quality and capacity of Russian domestic production, with the help of foreign expertise and resources, is a key factor in this strategy.
Russia Favours European Medicines
Finished pharmaceutical imports, Russia, US$bn 2010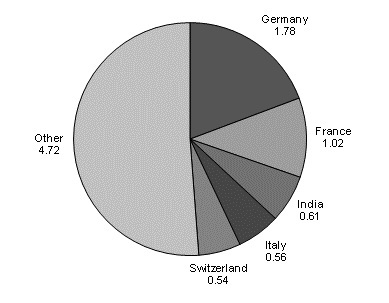 Source: United Nations Comtrade Database, BMI


The Issue of Quality
While BMI notes that the language used during the Chinese delegation's conference was optimistic and progressive, we understand Dmitry Parkhomenko, Deputy Head of the Federal Service on Surveillance in Healthcare and Social Development (Roszdravnadzor), noted quality issues in his presentation at the conference. According to Parkhomenko, more than 500 lines of substandard pharmaceutical products were removed from circulation. About 2% of them were Chinese products. He went on to say that the potential interaction between the two countries in the field of quality control is not fully implemented. He continued: "Cooperation may be more active. One of the major problems is rapid confirmation of the origin and quality of the drug, in particular about pharmaceutical substances entering the Russian market. The Chinese representatives were presented with a number of proposals to establish an information exchange with the Russian authorities, including verification of the certificate of conformity of production companies with the GMP standard."
BMI notes that one area of growth the Russian government may find difficult to regulate and control is the spread of traditional Chinese medicine (TCM) into global markets. The penetration of non-Western medicines into Russia will be difficult to monitor due to the high proportion of out-of-pocket and over-the-counter sales of medicines, where low cost is preferable to assured quality.
Related Reports:
Jordan Pharmaceuticals and Healthcare Report Q4 2011;
Zimbabwe Pharmaceuticals and Healthcare Report Q4 2011;
Bulgaria Pharmaceuticals and Healthcare Report Q4 2011;
Bangladesh Pharmaceuticals and Healthcare Report Q4 2011;
Puerto Rico Pharmaceuticals and Healthcare Report Q4 2011;
Romania Pharmaceuticals and Healthcare Report Q4 2011;
Singapore Pharmaceuticals and Healthcare Report Q4 2011;
United States Pharmaceuticals and Healthcare Report Q4 2011;
Israel Pharmaceuticals and Healthcare Report Q4 2011;
Philippines Pharmaceuticals and Healthcare Report Q4 2011.
To order the report or ask for sample pages contact ps@marketpublishers.com
Contacts
MarketPublishers, Ltd.
Tanya Rezler
Tel: +44 208 144 6009
Fax: +44 207 900 3970