Report Tracks Migration of Small and Midsized IPTV Operators to Multiscreen Video, Mobile TV and TV Everywhere
22 Sep 2011 • by Natalie Aster

San Jose, CA — A new report "Migrating to Mobile & Multiscreen Video Services for Small & Independent Pay-TV Operators" by MRG, Inc. finds that small and midsized Pay-TV Operators will introduce Multiscreen Video (MSV) and Mobile TV services by 2014, after introducing infrastructure upgrades and whole-home DVR, based on a survey sent to over 600 Operators and Vendors.
"All of the elements, from adaptive bit streaming to the widespread adoption of the tablet and
smartphones to licensing rights, are in place for multiscreen to be a standard part of many Operators' offerings within the next 3 years," states Ken Pyle, Analyst for MRG, Inc. "Because multiscreen uses OTT (Over-the-Top), where video content can be watched on many smart devices both inside and outside of the home, you can understand why and how multiscreen service will start, and how quickly TV Everywhere will develop," says Pyle.
Because of the fast acceptance of iPads and iPhones, due greatly to their common UI and OS, Apple has now set the stage for its competition (mostly with Google) who wants to establish a quicker pace of hardware upgrades than was common in mobile just a few years ago. By profiling over 60 Vendors in the 3 important infrastructure areas of transcoding, security/authentication and on-demand servers, the report also provides a technical foundation to small Operators needing help getting started with TV Everywhere, second-screen or multiscreen services based on OTT services.
Lack of wireless spectrum was the biggest concern among surveyed Operators. "In our initial look, it appears as if the race to help independent Telcos with their multiscreen offerings is wideopen for the Vendor community," said Pyle. "I suspect the root of this concern is that the larger carriers could be potential competitors with their 4G networks and could throttle the bandwidths of customers who didn't take their video service."
Of over 60 MSV Vendors profiled, included are Harmonic, ARRIS, Motorola Mobility, NDS, RGB,
Nagravision, Verimatrix, Microsoft and many others.
Report Details:
Migrating to Mobile & Multiscreen Video Services for Small & Independent Pay-TV Operators
Published: August 2011
Pages: 57
Price: US$ 2,495.00
The report provides an introduction to Multiscreen Video (MSV) services and provisioning Vendors as seen by Pay-TV Operators who recently launched Multiscreen Video services or who are planning to launch them. While based mainly on survey results of small and midsized IPTV and Cable Operators and Vendors, this report applies to a broad global market, due to the fast-moving changes occurring today in the global Multiscreen Video and Mobile TV markets. It also includes detailed analysis of MSV Vendors, and of authentication systems for TV Everywhere (TVE) applications.
There is a great deal of hype around Multiscreen Video and for good reason: consumers are increasingly watching television where they want. If the estimate is accurate of 21% of households regularly watching television on multiple screens, then the market is already at the start of mass-market adoption in 2012. It is no wonder that the majority of the surveyed respondents view Multiscreen to be a "must-have" within three years.
Multiscreen deployment is a lower priority for Operators than keeping the last-mile network up to date, as well as implementing whole-home DVRs. Still, it is higher in an Operators' priority list than VOD and Network PVR. This may be indicative that VOD and NPVR are morphing into a subset of Multiscreen Video.
Operators' Motivation for Multiscreen Video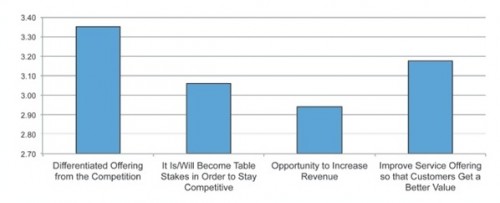 Source: Copyright© 2011 MRG,Inc.
The age of Multiscreen Video — that is, the ability to watch video where one wants and on a screen of one's choosing — is here. The results of MRG's 2011 survey of Tier-3 and -4 Operators indicates that these industry leaders view Multiscreen Video services as a feature that will soon become a "must-have." Accordingly, these Operators are planning for the day, in the not too distant future, when they can free their customers from the constraints of location when viewing the programming they provide.
Highlights of the survey results:
Multiscreen Video will become a "must-have" within three years.
Lack of wireless spectrum topped the concerns about possible impediments to offering Multiscreen Video services.
At the same time, respondents indicate that wireless carriers may be the biggest competitors in this space. Satellite, with its national footprint, is not to be overlooked.
Understanding how to bundle Multiscreen Video services was another concern among survey respondents.
Most believe Multiscreen services will not be a large stand-alone revenue subscription source, although there are hopes for other models, such as advertising to develop.
Based on the responses, it seems like the opportunity is wide open for the Vendor community.
More information can be found in the report "Migrating to Mobile & Multiscreen Video Services for Small & Independent Pay-TV Operators" by MRG Multimedia Research Group, Inc.
To order the report or ask for sample pages contact ps@marketpublishers.com
Contacts
MarketPublishers, Ltd.
Tanya Rezler
Tel: +44 208 144 6009
Fax: +44 207 900 3970