Ukraine - BMI Sceptical of WiMAX Prospects in Ukraine
13 Sep 2011 • by Natalie Aster
BMI would usually consider the roll-out of two new broadband networks a positive development for a country. However, Ukraine is something of a special case with a difficult operating environment and fragmented broadband sector leading us to question a new development. The announcement that Freshtel will expand its WiMAX services will see new towns gain access to broadband services, but BMI remains unconvinced of WiMAX's future as a leading broadband technology. On the other hand, we welcome news of Kyivstar's expanded fibre network.
WiMAX has yet to prove to be a game changer in broadband markets; there have been few large-scale roll-outs. While WiMAX offers operators a relatively quick way of rolling out services, it remains an expensive technology in comparison to alternatives. Several WiMAX operators have already started focusing on LTE for future growth prospects. That is not to say that there are no prospects for WiMAX services, but BMI believes growth in Ukraine's broadband market will come from other broadband technology options rather than WiMAX, principally mobile broadband.
Future Expectations Low
Ukraine Broadband Forecasts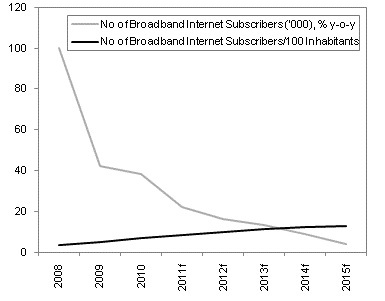 f = forecast. Source: BMI, iKS, Operators
Further, BMI's wider view on the Ukrainian telecoms market is far from positive. While improvements may be expected following the privatisation of incumbent Ukrtelecom in March 2011, after a decade of failed privatisation attempts, we remain unconvinced. The broadband market in particular is fragmented, which BMI believes could hold back growth. With broadband penetration at less than 7% in 2010, Ukraine is far behind its regional peers.
Fragmented Market Needs Consolidation
Ukraine Broadband Market, 2010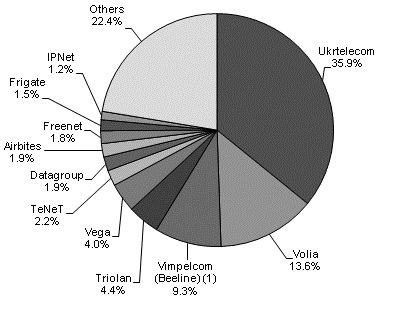 Source: BMI, iKS Consulting
About 50% of the fixed broadband market is controlled by just two operators, Ukrtelecom and cable operator Volia, with all but one of the remaining players in the market holding less than 5% share each. Only Russian-owned VimpelCom has a share of more than 5%, but its share of the market is still small. BMI believes there is scope for further consolidation in the Ukraine broadband market. Several smaller players have already merged to form larger companies. While we believe strong competition will drive the market, companies will need to achieve economies of scale to be able to offer services profitably and entice customers through lower prices.
We expect smaller operators to have a limited shelf life, with larger players aiming to buy them or smaller players merging to create competition. Now Ukrtelecom has a new financial backer and VimpelCom merged its operations with Kyivstar, the market has two strong players to drive the market. Second-ranked Volia also has strong international investment and made consolidation of its regional assets a priority. BMI expects these operators will be the driving force behind fixed broadband growth in Ukraine. Kyivstar announced the expansion of its fibre-to-the-building (FTTB) network in two new cities during August 2011, bringing its FTTB network to 76 towns and cities and providing a boost to high speed broadband access in the country.
Related Reports:
Peru Telecommunications Report Q4 2011;
Sudan Telecommunications Report Q4 2011;
Chile Telecommunications Report Q4 2011;
Croatia Telecommunications Report Q4 2011;
Bangladesh Telecommunications Report Q4 2011;
Colombia Telecommunications Report Q4 2011;
Greece Telecommunications Report Q4 2011;
Ireland Telecommunications Report Q4 2011;
Mexico Telecommunications Report Q4 2011;
Venezuela Telecommunications Report Q4 2011;
Sri Lanka Telecommunications Report Q4 2011.
To order the report or ask for sample pages contact ps@marketpublishers.com
Contacts
MarketPublishers, Ltd.
Tanya Rezler
Tel: +44 208 144 6009
Fax: +44 207 900 3970