Gabon - Major Housing Project Benefits from External Financing
07 Sep 2011 • by Natalie Aster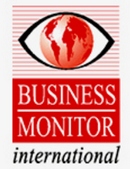 BMI View: The news that Indian infrastructure firm RPP Infra Projects has secured funding from ECOBANK of Libreville and BDEAC Bank for the first phase of a EUR250 (US$356mn) housing project in Gabon is a positive development in a country where financing barriers remain prohibitive. With both public financing bodies and the country's banking sector still largely underdeveloped, the impediments to project financing are a major barrier to sustained long-term growth in key sectors such as construction.
As in a number of sub-Saharan African (SSA) countries, multilaterals and development banks are an important source of financing and expertise - and this is the case in Gabon. They are all the more essential given that public authorities such as the Private Investment Promotion Agency (APIP) lack the requisite skills - and public financing institutions such as PromoGabon are insufficiently developed - to gain the confidence of foreign investors. Therefore, with sources of private financing remaining hard to come by, we believe Gabon's construction sector, like the country as a whole, will continue to rely heavily upon revenues from oil exports over the coming years.
Financing Obstacles Limit Growth
Gabon - Real GDP Growth (%) And Population (mn)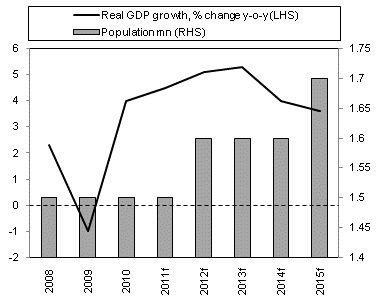 f=BMI forecast. Sources: World Bank. ADB, BMI.
That is not to say that regional banks and financing institutions such as ECOBANK of Libreville, Gabon - an independent West and Central African banking group - and BDEAC Bank in the DRC - the headquarters of the Central African States Development Bank (CASDB) - do not play an important role in harnessing private investment for key projects. Indeed, in-principle approval has been given from the above two banks for a 10,000 unit housing project, with ECOBANK having already approved funding for the first phase, according to the Economic Times. The 70 hectare (ha) project will be executed using a design, build, finance and transfer (DBFT) model to be implemented by RPP Infra Projects over three years under numerous stages of development.
No Diversity Here
Gabon - GDP by Sector (%), 2009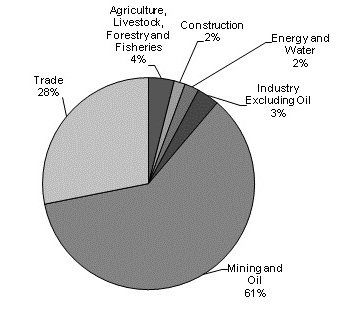 Source: African Development Bank.
BMI notes that meeting first-phase financing requirements provides a major boost to the project's prospects and should help ensure a more efficient and timely execution. Indeed, in higher risk markets such as Gabon where financing obstacles are high, the involvement of international institutions provides much-needed credibility and expertise, as well as the funding itself. However, the government of Gabon is demonstrating an increasing commitment to improving its business environment as it seeks to diversify away from oil and develop key sectors. As part of the housing project, the government has illustrated a willingness to attract investment through offering tax breaks and backing the duty-free import of machinery and construction materials. However, the construction sector still only accounts for around 2% of GDP and this is unlikely to change dramatically over the coming years unless more fundamental improvements are made to financing and institutional bodies.
Related Reports:
China Infrastructure Report Q4 2011;
Romania Infrastructure Report Q4 2011;
Turkey Infrastructure Report Q4 2011;
Vietnam Infrastructure Report Q4 2011;
Singapore Infrastructure Report Q4 2011;
Zambia Infrastructure Report Q4 2011;
Indonesia Infrastructure Report Q4 2011;
Philippines Infrastructure Report Q4 2011;
South Korea Infrastructure Report Q4 2011;
Russia Infrastructure Report Q4 2011.
To order the report or ask for sample pages contact ps@marketpublishers.com
Contacts
MarketPublishers, Ltd.
Tanya Rezler
Tel: +44 208 144 6009
Fax: +44 207 900 3970