Brazil - Petrobras' Q2 Results Show Promise But Reflect Political Strains
01 Sep 2011 • by Natalie Aster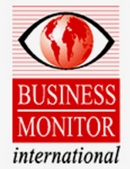 BMI View: Petrobras' strong second quarter profit growth highlights the benefits of its upstream strategy. However, local political challenges are forcing the company to reconsider its international expansion and are constraining its ability to disengage from its unprofitable downstream business. Politics has also hindered the firm's ability to pass on the increase in oil prices to Brazilian retail consumers. Nevertheless, the country's growing demand and export potential continue to offer strong growth opportunities.
Petrobras reported a second quarter net profit of BRL10.94bn (US$6.89bn), up 32% on the BRL8.29bn (US$5.22) profit recorded in the second quarter of last year. First half net income rose 37% to BRL21.93bn (US$13.81bn) from BRL16.02bn (US$10.09bn) in H110. Profits were boosted by higher crude prices, increased production volumes and a 4% Brazilian Real appreciation against the dollar in the second quarter which reduced cost in the company's dollar-denominated debt servicing.
Global Ambitions Thwarted by Local Challenges
Petrobras has been a successful offshore explorer and it has tried to leverage its deepwater expertise for its international expansion. In 2003, Petrobras took over various companies in the Latin America region to become the third largest group in the Argentine power sector, through its subsidiary Petrobras Energía. In Bolivia, it is the biggest gas buyer and the largest foreign producer. It also holds exploration and production (E&P) rights in Venezuela, Peru, Colombia, Ecuador and Uruguay and has retail interests in Chile. Further afield, the company has signed exploration agreements in the US Gulf of Mexico, Tanzania, Iran, Libya, Turkey, Angola and Nigeria.
Petrobras plans to become one of the world's five largest integrated energy companies by 2020. These ambitions are currently challenged by the deteriorating business environment in Ecuador and Bolivia and a loss of profitability in Argentina due to price controls. Moreover, growing domestic capital expenditure requirements forced the company to focus on the Brazilian market and more specifically on the development of vast hydrocarbon reserves located in the Santos Basin. The company's aggressive E&P strategy, be it domestic or abroad, generates most of the company's net profits.
Growth and Profits Undermined by Political Pressure
The most striking aspect of the results announced are the growing losses made on Refining, Transportation and Marketing, which have grown from a loss of BRL108mn (US$67.9mn) in Q210 to a loss of BRL2,280mn (US$1,434mn) in Q211. In an interview to Forbes on July 29, Chief Financial Officer Almir Barbassa reiterated his firm's commitment to its integrated model, telling Forbes that 'this is the new frontier, where the growth opportunities are'. While this declaration conflicts with the increase in losses made on this segment, it also comes at a time when many oil companies are trying to disengage from the downstream business, due to low and sometimes negative profit margins.
Warning: Strong Currents!
Breakdown of Petrobras' Q210 and Q211 Net Profits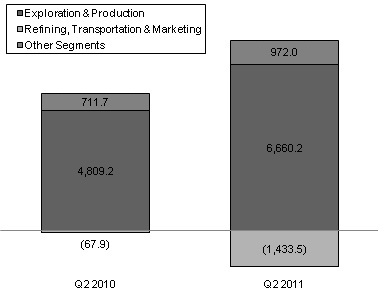 Source: Company Information
In our view, Petrobras' attachment to the integrated model lies in Brazilian politics rather than in corporate considerations. Concerns remain that Dilma Rouseff, the newly elected Brazilian president, will reverse Lula's pro-market policies and lower Petrobras' return to investors. In our view, fears of Venezuela-style dirigisme are overblown, but it is clear that Petrobras will have to underwrite a greater share of Brazil's social development goals. The downstream business, by providing cheap fuel to the economy, is central to this role.
Political strains have also affected the company's responsiveness to market fluctuations. Q211 year-on-year profit grew 32%, below the performance of competitors such as ExxonMobil, Chevron and Royal Dutch Shell which saw their Q211 net profits grow by 41%, 43% and 56% respectively. Although oil prices in Q211 were around 50% higher than in Q210, Petrobras, unlike its international oil company rivals, was unable to pass on the increase to fuel consumers.
Opportunities Remain for Petrobras
BMI expects Brazilian output to increase considerably in the medium term. We expect it to rise from 2.7mn barrels-per-day (b/d) in 2010 to 4.4mn b/d in 2015 before soaring to 5.9mn b/d by 2020. This would position Brazil above all but the biggest Middle Eastern producers.
Order and Energetic Progress
Brazilian Oil Production, Consumption and Net Exports
f = forecasts; Source: BMI


Brazil is the 10th largest energy consumer in the world, the biggest in Latin America and the third largest in the Western Hemisphere, behind the US and Canada. Oil consumption, put by BMI at 2.68mn b/d in 2010, should rise by up to 3.0% per annum, reaching 3.15mn b/d by 2015. Crude oil demand is set to remain in excess of supply until 2014, but Brazil's rising ethanol production leaves it with a growing net oil export capacity. This conjunction of domestic consumption expansion with significant potential for exports indicates that Petrobras has room for considerable growth.
Related Reports:
Ukraine Oil and Gas Report Q3 2011;
Turkmenistan Oil and Gas Report Q3 2011;
Saudi Arabia Oil and Gas Report Q3 2011;
Russia Oil and Gas Report Q3 2011;
Iran Oil and Gas Report Q3 2011;
Croatia Oil and Gas Report Q3 2011;
Israel Oil and Gas Report Q3 2011;
Gabon Oil and Gas Report Q3 2011;
Egypt Oil and Gas Report Q3 2011;
Venezuela Oil and Gas Report Q3 2011.
To order the report or ask for sample pages contact ps@marketpublishers.com
Contacts
MarketPublishers, Ltd.
Tanya Rezler
Tel: +44 208 144 6009
Fax: +44 207 900 3970