Slovakia - Drug Policy Reforms Pass First Reading, 2012 Drug Market Contraction Now Irreversible
29 Aug 2011 • by Natalie Aster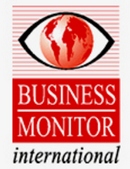 BMI View: The legislative process that BMI projects will lead to a 5.8% year-on-year contraction in prescription drug expenditure in Slovakia has passed without significant resistance on its first reading. BMI maintains that the size of savings the Ministry of Health are projecting are not entirely credible, but has forecast a more moderate contraction in 2012. The most significant and damaging measure will be changes to the reference pricing system, which will set Slovakian drug prices at the average of the two lowest prices in the EU.
On July 07 2011, the Slovakian parliament (known as the National Council) approved on the first reading the draft act on the Scope and Conditions on the Reimbursement of Medicines, Medical Devices and Dietary Foods. The council has now moved for a second reading of the legislation, which if passed will replace the existing legal framework arrangements for the reimbursement of medicines, medical devices and dietary foods established in the legislation 577/2004.
On July 08 2011, the National Council approved on the first reading the government bill on medicines and medical devices and moved for a second reading. The legislation amends some laws in the Medicines Law Act 140/1998, which initially came into force in June 1998.
In an interview on July 22 2011, Health Minister Ivan Uhliarik discussed the legislative measures and again outlined targeted savings of up to EUR200mn (US$290mn) to be achieved from drug expenditure reductions within the obligatory health insurance system from 2012. Uhliarikhas also promised that the savings will be retained in the healthcare sector and used for sector workers' salaries and to improve the provision of medical services.
In June 2011, BMI lowered Slovakia's pharmaceutical forecasts to reflect the expected passage of these reforms. With the relatively smooth passing of both key components through their respective first readings, we do not foresee any major amendments and the legislation is on track to be implemented - as planned - at the start of 2012.
However, crucially, BMI continues to believe that the extent of savings outlined is not entirely credible. We do not expect savings resulting from this legislation to exceed EUR90mn (US$125mn) in 2012. While we expect direct tangible actions such as changing drug prices to the average of the two lowest prices in the EU - replacing the current system, in which medicines cannot exceed the average price of the six lowest prices for drugs in other EU markets - to generate immediate savings, other measures such as faster generic drug adoption and a review to tackle duplications and unnecessary prescriptions by the national health insurance companies will not generate the extent of savings promised. Even if it the measures are successful, they are unlikely to generate immediate savings from the drug expenditure budget in 2012.
Moderate, but not Major Contraction in 2012
In 2010, combined sales of prescription drugs and over-the-counter (OTC) medicines in Slovakia reached EUR1.676bn (US$2.22bn), achieving year-on-year (y-o-y) growth of 4.4%. We maintain our moderately optimistic outlook for 2011 and forecast 4.2% growth y-o-y. However, in 2012, we project the market will contract by 4.0%, but we note that the legislative focus on prescription pharmaceuticals (which are reimbursed or partially reimbursed) will lead to a contraction in the sector of 5.8%, while OTCs will remain relatively unaffected with 4.9% growth. A key risk to our forecast scenario is the impact of parallel trading. The effect of lowering drug prices to the average of the two lowest prices in the EU will increase this trade, which artificially inflates the real value of the pharmaceutical market and could lead to stronger than expected growth in the Slovakian market in 2012, while local consumption will remain unaffected.
Slovakia Forecast Scenario: Drug Market Contraction in 2012
Slovakian Pharmaceutical Market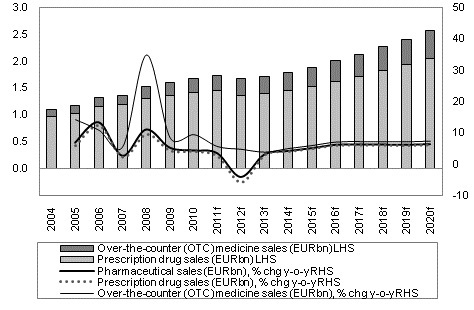 Source: IMS Health, Association of the European Self-Medication Industry (AESGP), BMI
Healthcare Expenditure Revised
In August 2011, BMI revised our healthcare expenditure data for Slovakia following changes to data provided by our primary healthcare data source, the World Health Organization (WHO). The amendment includes a minor upward revision to government healthcare spending, but a downward revision to private expenditure. The revision includes new data for 2009, which have shown that healthcare expenditure increased by less than 1% in 2009 - below, but broadly in line with BMI's calculation of 2.6% y-o-y nominal growth.
In 2011, BMI calculates that Slovakia's health expenditure will reach EUR5.76bn (US$8.23bn), with the government providing 66.0% of this total. We note that due to the historic revisions, which included a downward revision to the y-o-y growth recorded between 2005 and 2010, our proprietary healthcare expenditure model now projects slower than previously anticipated growth over our medium-term forecast period to 2015. BMI now projects Slovakia's healthcare expenditure will grow at a CAGR of 5.1% in local currency terms to EUR7.07bn (US$8.84bn), down from 6.7% in our previous five-year forecast.
Revised Projections: Slower Healthcare Growth Now Expected
Slovakian Healthcare Expenditure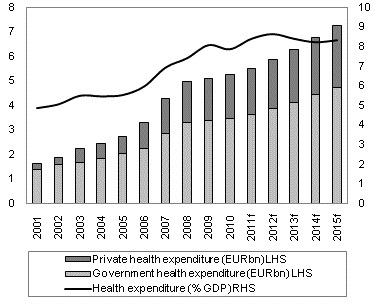 Source: World Health Organization (WHO), BMI
BMI Economic View: We continue to expect Slovakia's economy to expand by 3.2% in real terms in 2011, which we believe will be largely driven by a continued strong export performance. We expect household consumption to recover marginally, though only towards the end of the year when the effects of fiscal austerity measures wane and the labour market improves. We also expect gross fixed capital formation to recover, expanding by 6.0% in real terms in 2011 as investor sentiment towards the region continues to improve and as local enterprises boost capital expenditure.
Related Reports:
Turkey Pharmaceuticals and Healthcare Report Q4 2011;
Mexico Pharmaceuticals and Healthcare Report Q4 2011;
Nigeria Pharmaceuticals and Healthcare Report Q4 2011;
Estonia Pharmaceuticals and Healthcare Report Q4 2011;
Venezuela Pharmaceuticals and Healthcare Report Q3 2011;
South Africa Pharmaceuticals and Healthcare Report Q3 2011;
Hong Kong Pharmaceuticals and Healthcare Report Q3 2011;
Italy Pharmaceuticals and Healthcare Report Q3 2011;
Belarus Pharmaceuticals and Healthcare Report Q3 2011;
United Kingdom Pharmaceuticals and Healthcare Report Q3 2011.
To order the report or ask for sample pages contact ps@marketpublishers.com
Contacts
MarketPublishers, Ltd.
Tanya Rezler
Tel: +44 208 144 6009
Fax: +44 207 900 3970