United States - The US Debt Crisis - Implications for the ICT Sector
18 Aug 2011 • by Natalie Aster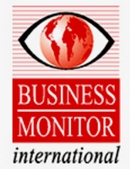 On August 1 2011 the US House of Representatives approved legislation to raise the debt ceiling by US$2.1trn and cut spending by US$2.4trn during the next ten years. The plan secures the US economy from defaulting at least until 2013 and was welcomed by the markets. However, the escalating debt coupled with spending cuts and a sluggish economic recovery means BMI is bearish over the future of the US, and raises concerns over consumer demand in the ICT sector. Despite this, BMI believes the US telecoms market will remain buoyant and the main operators will continue to grow steadily throughout 2011.
Economic Growth to Dampen Demand?
The US Q211 GDP figures were released on July 29 2011, along with a downgrading in historical figures, which revealed that US growth is much slower than previously believed. BMI downgraded GDP forecasts from 2.6% to 1.7% growth in 2011, and as a result we believe domestic demand will be protracted through H211. We believe there will be negative implications for the US consumer, who faces large scale cuts to public expenditure as the government attempts to tackle the debt crisis. Meanwhile, the Republican opposition to raising taxes will provide no new source of income to tackle escalating debt.
Slower economic growth is likely to hit demand for consumer electronics and telecoms services, as consumers uncertain about their economic future will be less willing to spend on gadgets or in high revenue areas such as 3G data services. In the mature US telecoms market, operators rely on such services, rather than net additions, to generate growth as the market reaches 100% penetration. BMI believes that for the remainder of 2011, the economy is likely to be overshadowed by the spending cuts and as the debt continues to grow, BMI does not believe consumer confidence will experience an upturn. However, this does not mean we are overly gloomy about the telecoms sector. Telecoms services will continue to remain in demand and operators will remain buoyant, although growth will be at a slower rate than in high growth markets such as Brazil.
AT&T Outperforms
Share Price AT&T and Verizon vs S&P 500, Feb- Aug 2011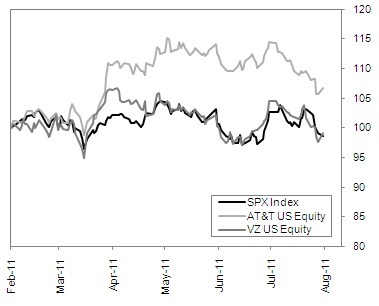 Source: BMI, Bloomberg

The spending cuts will affect federal spending on telecoms services, with around US1bn to be cut from the Universal Services Fund, which subsidised rural telephone and broadband service providers. Rural areas are often overlooked by private companies, as the sparse population does not generate sufficient revenue to cover the costs of network deployment and maintenance in these areas. However, the main US carriers have proposed a new Rural Broadband Plan to replace this fund, which aims to connect 4mn US citizens within five years, a goal BMI sees as more realistic than the previous plan to connect every citizen (see Operators Propose To Roll Out US Rural Broadband Plan, August 1 2011). We also believe funds will be spent more efficiently, by avoiding areas where there will be no return on investment. However, this may have detrimental effects on individuals and businesses in such areas, increasing disparities between rural and urban dwellers. However, the plan is at the proposal stage and BMI is concerned over the time it will take to implement.
Optimism from Investors
Despite investor worries over the US economy, US telecoms companies remained buoyant. Verizon performed strongly in Q211 and reported accelerated revenues growth of 10.2% y-o-y. AT&T outperformed the S&P 500 during H111, following speculation over the T-Mobile USA deal. Further, prior to the debt deal, with confidence in US treasury bonds waning and a downgrade in credit rating still a strong possibility, investors focused on corporate bonds as a possible refuge, with telecoms bonds seen as a robust choice. BMI believes that this may become an option if future mistrust in government bonds re-emerges, as we hold a positive outlook for the main telecoms carriers through 2011.
Can Telecoms Help The Government Tackle The Debt Crisis?
The telecoms sector may even help the government tackle the debt crisis. The surging data usage by smartphone consumers means mobile carriers increasingly need further spectrum capacity to cater for this demand. By auctioning analogue TV spectrum, which is ideal for 4G and LTE services, it is estimated that the senate could raise US$15bn. However, this is a minimal sum when the government needs to tackle the US$13trn debt.
Robust Growth To Continue Despite Crisis
BMI Forecasts - US Mobile Market 2008-2015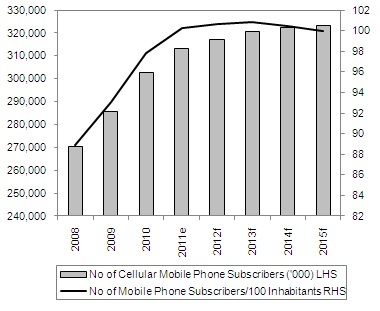 e/f = estimate/forecast. Source: BMI, CTIA, Operators


Outlook for H211
BMI believes Verizon will perform reasonably in H211, and AT&T is is also likely to remain robust although soaring growth rates are not expected. We expect a large upturn to share price if its merger with T-Mobile USA is passed. Both companies reported positive Q211 results, while operator Sprint Nextel's share price tumbled 18% following poor Q211 results. Centurylink, which paid dividends of 7.8% in July, will also continue to perform satisfactorily, as the operator consolidates its business. The firm's merger with Qwest in April 2011 will create the US's third largest carrier, and in June 2011 its merger with Savvis was finalised. BMI believes the company will continue to pay high dividends as the benefits of its new acquisitions make themselves felt.
Related Reports:
United States Telecommunications Report Q3 2011
Switzerland Telecommunications Report Q3 2011
United Kingdom Telecommunications Report Q3 2011
Sweden Telecommunications Report Q3 2011
Philippines Telecommunications Report Q4 2011
North Africa Telecommunications Report Q3 2011
Qatar Telecommunications Report Q3 2011
Saudi Arabia Telecommunications Report Q3 2011
South Korea Telecommunications Report Q3 2011
Taiwan Telecommunications Report Q3 2011.
To order the report or ask for sample pages contact ps@marketpublishers.com
Contacts
MarketPublishers, Ltd.
Tanya Rezler
Tel: +44 208 144 6009
Fax: +44 207 900 3970
ps@marketpublishers.com
MarketPublishers.com