Spain - Total Completes CEPSA Sale to Downsize European Refining Business
17 Aug 2011 • by Natalie Aster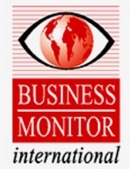 BMI View: By selling its stake in CEPSA, Total has reduced its exposure to European refining, while IPIC has gained control of one of the continent's largest downstream players at a bargain price.
Abu Dhabi's state holding company International Petroleum Investment Co (IPIC) has completed the takeover of Spanish downstream player Compañía Española de Petróleos (CEPSA) through the acquisition of a stake held by French major Total. According to a August 2 press release, Total has agreed to sell its entire 48.8% stake in the company to IPIC for EUR3.7bn (US$5.25bn), giving IPIC a 95.89% interest in CEPSA.
In Spain
Spanish Refining Capacity And Product Exports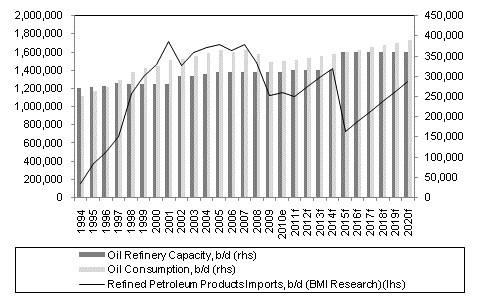 f = forecast; Source: Historical, BP Statistical Review of World Energy, June 2010, Energy Information Administration; Forecasts, BMI
For CEPS
CEPSA is Spain's second-largest integrated energy company after Repsol YPF. It has an international upstream portfolio including three exploration blocks in Algeria, 20 blocks in Colombia, five blocks in Peru and three blocks in Egypt. Downstream, the company has three refineries with a total capacity of around 430,000 barrels per day (b/d). The largest, in San Roque close to Gibraltar, has a capacity of around 240,000b/d, with the other two in La Rábida, on Spain's south-west coast, and in Tenerife in the Canary Islands. CEPSA also owns petrochemical assets in Spain, Canada and Brazil, and a network of around 1,400 Spanish and Portuguese service stations. The company is a 20% stakeholder in the Medgaz gas pipeline from Algeria to Spain.
IPIC And Mix
Despite this diversified portfolio, CEPSA is heavily dependent on the European refining sector, which is currently passing through a long, cyclical downturn. This has not put off IPIC, which took advantage of depressed prices in the midst of the downturn in April 2009 to increase its equity holding in CEPSA to around 47%. For international oil companies such as Total, however, the refining sector has acted as a brake on profits, forcing the French major to look at reducing its exposure. The deal with IPIC therefore helps Total reduce its involvement in European refining while avoiding the political fallout that the closure of one of its French refineries would create.
SPANISH OIL REFINERIES

Location

Name

Capacity, b/d

Capacity, tpa

Status

Built

Owner

Acquired

Muskiz

Bilbao

220,000

10,950,722

Active

Repsol YPF

Tarragona

Tarragona

180,000

8,959,681

Active

Repsol YPF

Ciudad Real

Puertollano

150,000

7,466,401

Active

Repsol YPF

Castellon

Castellon

110,000

5,475,361

Active

BP

La Rabida

Huelva

100,450

5,000,000

Active

1967

CEPSA

1967

Cartagena

Cartagena Murcia

100,000

4,977,601

Active

Repsol YPF

Tenerife

Tenerife

90,405

4,500,000

Active

1930

CEPSA

1930

1,311,935

65,302,887

Source: BMI Downstream Projects Database,
Related Reports:
United Arab Emirates Oil and Gas Report Q3 2011;
Oman Oil and Gas Report Q3 2011;
Mexico Oil and Gas Report Q3 2011;
Libya Oil and Gas Report Q3 2011;
Israel Oil and Gas Report Q3 2011;
Gabon Oil and Gas Report Q3 2011;
Egypt Oil and Gas Report Q3 2011;
Bahrain Oil and Gas Report Q3 2011;
Cameroon Oil and Gas Report Q3 2011;
Venezuela Oil and Gas Report Q3 2011.
To order the report or ask for sample pages contact ps@marketpublishers.com
Contacts
MarketPublishers, Ltd.
Tanya Rezler
Tel: +44 208 144 6009
Fax: +44 207 900 3970