Mexico - América Móvil Bids for Full Telmex Ownership
16 Aug 2011 • by Natalie Aster
América Móvil is to go full circle as the company made a US$6.5bn bid for the remaining 40% stake in Telmex it does not currently own. América Móvil was spun off from Telmex in 2001 and went on to become the largest mobile operator in Latin America. While Telmex remains the largest operator in Mexico's fixed-line and broadband sectors, its revenues continue to fall as the market moves to mobile communications. América Móvil's strong cash position allows it to do this, and supports BMI's view that consolidation remains a major trend in Latin America.
Combined Operations Keep Mexico On Top
America Movil Subscribers By Type (000)
Source: Ameica Movil. *includes Paraguay and Uruguay, **includes Panama, ***includes Caribbean
América Móvil's intention to acquire Telmex is not surprising, after the company announced a share-swap deal worth US$21bn in mid-January 2010. The deal was approved in July 2010 and América Móvil took full control of Telmex International - a company spun off from Telmex in 2008 - and acquired 59.9% of Telmex. Operations formerly under the Telmex Internacional banner include fixed-line, broadband and pay-TV services, while Telmex's operations in Mexico are not allowed to offer any pay-TV. BMI believes merging Telmex and Telcel, América Móvil's Mexican mobile unit, will do little to persuade regulators to allow Telmex to offer pay-TV.
However, as Telmex's financial results show, the operator's dominance of the traditional fixed service market cannot stave off the growing interest in mobile services. Broadband has been providing an increasing proportion of the company's revenues, but the availability of mobile broadband and greater competition in the broadband sector are hitting growth for the company.
For Telmex the deal is a real boost, reflected in the 7.7% increase in its stock following the announcement as it will be able to take advantage of combining some operations with Telcel and making significant savings. However, América Móvil's share price dropped almost 2% and highlights investor worries over Telmex's long-term future. With falling fixed lines in service (down 3.1% in Q211), the company's traditional source of revenue continues to fall. This is true of all of América Móvil's fixed-line services, but these are offset by broadband and, more importantly, pay-TV services, which Telmex cannot offer.
Stabilising But Trending Downwards
Telmex Financial Performance (MXNmn)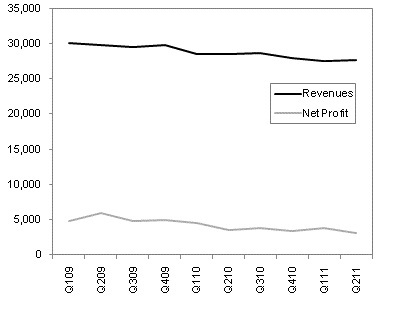 Source: Telmex



The companies will benefit in cutting corporate overheads by sharing call centres and some management. This will eliminate some of the impact of Telmex's declining fixed-line services on the company's bottom line. The opportunity to offer bundles of services may also suit the combined operations, helping improve Telmex's fortunes.
América Móvil's acquisition of Telmex is still subject to regulatory approval and a completion date has not been announced. BMI expects rival players across the telecoms industry to raise their objections to the move. However, we see limited prospects for Telmex's continued viability if the deal does not go through. While the company continues to make a profit and reports good revenue, BMI believes it will struggle to remain profitable in the long term without a pay-TV licence as more subscribers give up their fixed-lines to move to alternative operators or switch entirely to mobile-based communications services. For Telmex this is the best deal. BMI would not be surprised if the acquisition was allowed, but with several regulatory requirements to be completed before final approval is given.
Related Reports:
Brazil Telecommunications Report Q3 2011
Canada Telecommunications Report Q3 2011;
Finland Telecommunications Report Q3 2011;
Iraq Telecommunications Report Q3 2011;
Poland Telecommunications Report Q3 2011;
Southern Africa Telecommunications Report Q3 2011;
India Telecommunications Report Q3 2011;
Italy Telecommunications Report Q3 2011;
Caribbean Telecommunications Report Q3 2011;
Austria Telecommunications Report Q3 2011.
To order the report or ask for sample pages contact ps@marketpublishers.com
Contacts
MarketPublishers, Ltd.
Tanya Rezler
Tel: +44 208 144 6009
Fax: +44 207 900 3970
ps@marketpublishers.com
marketpublishers.com