Kenya - RVR Secures Financing for Capacity Improvements
15 Aug 2011 • by Natalie Aster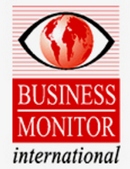 BMI ViewA major rail line operated by Rift Valley Railways (RVR) has long been regarded as a debilitating bottleneck for freight and passenger transport in East Africa. The only rail line linking Kenya and Uganda, it has been one of the main factors behind congestion at the port of Mombasa and has constrained the movement of people and goods within the region. The rail line has been privately operated for some time; however promises of improvements and investment have repeatedly fallen flat. The securing of financing for a new phase of upgrades should ensure some improvements are made, providing a major boost to transport infrastructure in the region.
Rift Valley Railways operates 2,350km of rail track linking Kenya and Uganda, including the main route connecting the Port of Mombasa in Kenya and Uganda's capital city Kampala via Nairobi, as well as a number of spur lines. Upgrades on this main line are desperately needed, as a lack of capacity has been a major cause of congestion at the port, as goods are unable to be transported onwards and therefore have to be stockpiled, preventing new goods from being unloaded. Plans for improvements to the line have been in the pipeline for sometime; however, mismanagement of the concession, a lack of funds and an ownership battle - which almost saw the concession annulled a number of years ago - have meant no notable upgrades have been carried out since the concession was first awarded five years ago.
RVR has seen a number of different owners over the years. The most recent investor to come on board was Egyptian private equity company Citadel Capital in 2010. Citadel has a 51% stake in RVR, with the remainder owned by Transcentury (34%) and Bomi Holdings Limited (15%). Citadel has planned a US$287mn five-year capital expenditure plan for the rail line, which will see much needed improvements made to the track, rolling stock and IT systems. The upgrades will be financed by a US$164mn loan granted by the International Finance Corporation (IFC) and six other international financing institutions - on top of a US$20mn loan previously agreed by the IFC. The rest of the funding will come from profits and shareholders. In July 2011, Egypt's Financial Supervisory Authority approved Citadel's $175 million rights offer; the sale of stock will increase the company's capital to US$732mn.
Financial Support Could Move Projects Forward
Funding Agreement For Citadel Capital, By Source, US$mn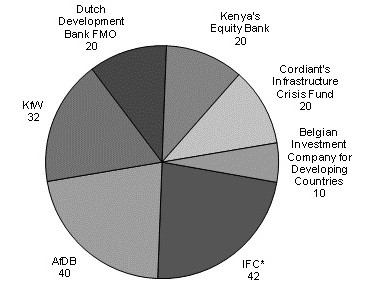 *Includes US$20mn already allocated, Source: IFC
It is hoped the investment will almost quadruple capacity on the line - reaching 5mn tonnes per year by 2015. The goal is ambitious to say the least. However, volumes on the line have been rising, with H1 2011 seeing a 5.2% y-o-y increase in freight carried - to 1.61mn tonnes in the first six months to June 2011. Yet, in order to meet ambitious targets, new capacity is fundamental; demand for transport is not the main issue depressing growth in volumes or revenues.
Improvements on the line would provide significant upside to freight transport costs in the region, and would go some way to making goods more competitive internationally. An efficient railway network could reduce transport costs by up to 35% according to Citadel Chairman Ahmed Heikal, quoted in an interview with Bloomberg, because carrying freight by rail is cheaper and more efficient. Currently, no more than 15% of cargo from Kenya's Port of Mombasa is carried west via railways. Plans had been in place to increase rail volumes between Kenya and Uganda to 85% through the concession of the railways; however, this has largely failed owing to the inability to carry out planned improvements. Moving more freight to rail would also reduce the level of wear-and-tear on Kenya and Uganda's roads, with three plus axel trucks damaging existing infrastructure for which there is no money for repairs.
Requiring Better Transport Links
Mombasa TEU Throughput And Capacity Plans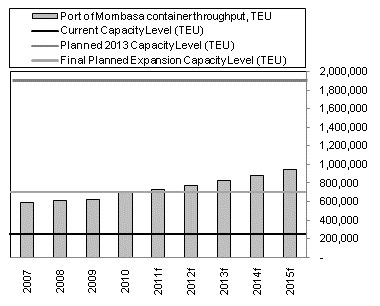 Source: Kenya Port Authority


Related Reports:
Uganda Infrastructure Report Q3 2011;
United States Infrastructure Report Q3 2011;
Angola Infrastructure Report Q3 2011;
Mexico Infrastructure Report Q3 2011;
Kazakhstan Infrastructure Report Q3 2011;
Egypt Infrastructure Report Q3 2011;
Canada Infrastructure Report Q3 2011;
Cote d'Ivoire Infrastructure Report Q3 2011;
Taiwan Infrastructure Report Q3 2011;
Chile Infrastructure Report Q3 2011.
To order the report or ask for sample pages contact ps@marketpublishers.com
Contacts
MarketPublishers, Ltd.
Tanya Rezler
Tel: +44 208 144 6009
Fax: +44 207 900 3970