Japan - Astellas Profitability Down Despite US Sales Boost
12 Aug 2011 • by Natalie Aster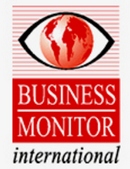 BMI View: Despite Astellas Pharma's minimal exposure to generic drug competition and its optimistic forecast going into 2015, BMI is cautious of a company that has seen almost no organic sales growth over the previous three months. While one-time acquisition boosts have positively affected this quarter's profits, we believe the ongoing effects of a weak Japanese yen will equate to underperformance over the next three months.
Japan's second largest drugmaker Astellas posted less than positive results for the first quarter of FY11 (April 1 2011-June 30, 2011). While the Tokyo-based company's sales grew 5.9% from JPY237bn (US$2.68bn) in Q1FY10 to JPY252bn (US$3.11bn) in Q1FY11, the bottom line failed to reflect the increase. Instead, mounting research and development (R&D) costs and one-time expenses related to recent restructuring caused overall profitability to drop to JPY25.2bn (US$311mn) - down 36% from JPY39,464mn (US$445mn) in the same period of FY10. The company's stock closed up slightly (0.13%) at JPY3,000 (US$38.85) on the Tokyo Stock Exchange, while the Nikkei 225 Index closed up 1.3% on August 1 2011.
Profits Hit
Astellas Q1 FY11 Headline Financial Results (JPY)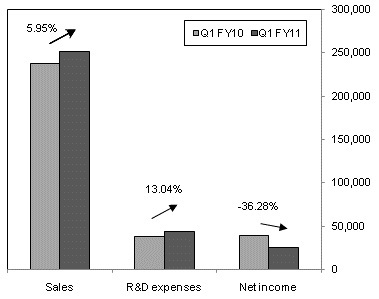 Source: BMI
The company's US$4bn acquisition of US-based biotechnology company OSI Pharmaceuticals in 2010 and the amortisation of its expiring patents has hit Astellas with higher than expected administrative and sales costs. . In addition, the company has recently announced a string of deals either licensing drug rights or selling them outright and these portfolio downgrades accounted for JPY3.4bn (US$42.2mn) in one-time charges. The company will include its July 26 2011 announcement to sell some rights for its irregular heartbeat treatment vernakalant to Merck & Co in its next financial quarter.
Although it has recently divested some of its assets, Astellas still covers a range of areas across cardiovascular, central nervous system, oncology, metabolic, infectious disease, inflammation/immunology, gastroenterology and urology therapies. The company responded to regulatory difficulties and lower than expected sales of its transplant drug Prograf (tacrolimus) by bringing in a new chief executive officer in June 2011. In its 'Vision 2015' press release, Astellas forecasts optimistic annual sales of JPY1.1trn (US$13.6bn) and a net income of JPY240bn (US$2.9bn) by March 2015.
Emerging Markets Strategy
Astellas does not report sales on a country-by-country basis, but its Asia (excluding Japan) revenue increased by a mere 1.6% year-on-year. Sales across Europe and Japan were also weak, posting 5% and 2.1% gains on 2010. However, the company has focused its efforts on the US market, where sales grew dramatically, up 21.4% on FY10. BMI believes the increased revenue can be attributed to proceeds from Astellas's acquisition of OSI Pharmaceuticals.
Aquisition Boosts US Sales
Astellas Market Sales By Region (JPY)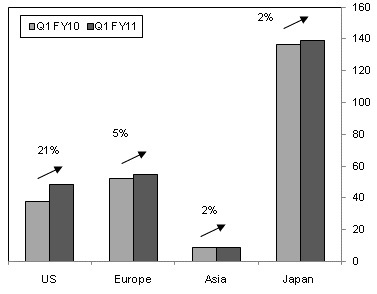 Source: BMI


Stock Performance
Between July 01 2010 and June 30 2011, Astellas's share price increased by 14.8% in US dollar terms, well below the 21.4% rise recorded by BMI's Pharma 20 Index, which is a share index of the leading 20 pharmaceutical companies weighted according to market capitalisation. In a local market context, the company's share price rose 5.6% in Japanese yen terms, in line with the Nikkei 225 Index which increased 6.8% during the same period.
Under-performance
The Relative Share Price Performance Of Astellas And BMI's Pharma 20 Index - In US$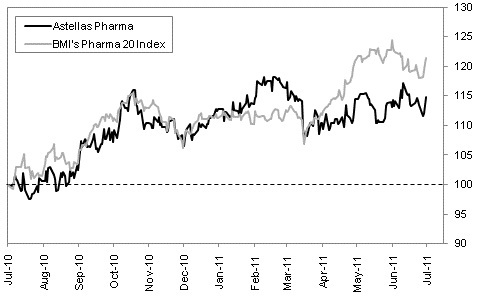 Source: Bloomberg, BMI
In Line With Nikkei 225
The Relative Share Price Performance Of Astellas And Nikkei 225 Index - In JPY
Source: Bloomberg, BMI


Recent Developments
In July 2011, Astellas entered a global licensing agreement with US-based biopharmaceutical firm Vical for the worldwide rights to cytomegalovirus (CMV) vaccine TransVax. Under the deal, Vical is entitled to an upfront payment of US$130mn plus milestone payments and double-digit royalties on Astellas's net sales of the product. The vaccine is used to prevent cytomegalovirus in stem-cell transplant patients. Both companies are scheduled to commence a multinational phase III registration trial of TransVax in hematopoietic stem cell transplant (HSCT) recipients as well as a Phase II trial in solid organ transplant (SOT) recipients during H112.
In July 2011, the company signed an agreement for the divestment of its Prosidion patent estate and associated royalty stream, involving the use of dipeptidyl peptidase IV (DPP-IV) inhibitors, to US-based pharmaceutical investment fund Royalty Pharma for US$609mn. DPP-IV inhibitors are used to treat type 2 diabetes. The deal entitles Royalty Pharma to 100% of royalty payments and milestones linked to the DPP-IV inhibitors and allows it to take over the administration of the DPP-IV patent estate.
In July 2011, Pfizer reached an agreement with Astellas regarding the transfer of its distribution rights for Caduet (amlodipine besylate + atorvastatin calcium) in Japan. Under the terms of the agreement, Astellas will receive full rights to the drug from October 1 2011. The companies have jointly marketed the drug since its launch in the country in December 2009. The drug is designed for the treatment of patients with high blood pressure and cholesterol.
In May 2011, the company's Turkish subsidiary announced plans for growth despite a significant reduction in drug prices by the government. The firm is considering increasing its number of employees and enhancing its product portfolio during 2011, Piet Dury, head of Astellas Turkey, said. Dury added that the firm posted a 70% growth rate between 2009 and 2010, with turnover exceeding the TRY45mn (US$28.3mn) mark and ranking 15th in the Astellas Europe region. Dury also cautioned that the country may encounter a possible drugs shortage as a result of the government's pricing policies.
Related Reports:
Japan Pharmaceuticals and Healthcare Report Q3 2011;
Hong Kong Pharmaceuticals and Healthcare Report Q3 2011;
Iraq Pharmaceuticals and Healthcare Report Q3 2011;
Israel Pharmaceuticals and Healthcare Report Q3 2011;
Italy Pharmaceuticals and Healthcare Report Q3 2011;
Belarus Pharmaceuticals and Healthcare Report Q3 2011;
United Kingdom Pharmaceuticals and Healthcare Report Q3 2011;
Saudi Arabia Pharmaceuticals and Healthcare Report Q3 2011;
Lithuania Pharmaceuticals and Healthcare Report Q3 2011;
Czech Republic Pharmaceuticals and Healthcare Report Q3 2011;
Ghana Pharmaceuticals and Healthcare Report Q3 2011.
To order the report or ask for sample pages contact ps@marketpublishers.com
Contacts
MarketPublishers, Ltd.
Tanya Rezler
Tel: +44 208 144 6009
Fax: +44 207 900 3970