Brazil - Kirin Pounces For Brazil's Schincariol But Faces Challenge of Dominant AmBev
11 Aug 2011 • by Natalie Aster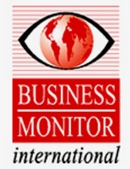 In a surprise announcement Japanese brewer Kirin has revealed it is has secured a majority stake in Brazil-based Schincariol for BRL3.95bn (US$2.5bn). BMI had previously made Heineken the favourite to land the Brazilian firm, which had been put up for sale by its owners. However, Kirin swooped to gain a 50.45% stake in the business through the purchase of Aleadri-Schinni Participacoes e Representacoes from two members of the the founding family. The move will give Kirin control of around 15% of the highly attractive Brazilian market, but will also leave it with the challenge of competing in a market overwhelmingly dominated by Anheuser-Busch InBev through its Brazilian arm AmBev.
Dynamic Market
Brazil Beer Sales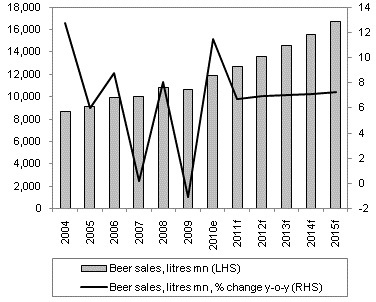 e/f=BMI estimate/foreacst. Source: UN, BMI
The Brazilian beer sector is one of the most dynamic in the world, with consumption increasing rapidly thanks to increasing overall affluence (see first chart). BMI is forecasting compound annual growth of 7% in volumes over the next five years, while value sales are expected to increase at an even more rapid rate thanks to a trend towards more expensive varieties.
This dynamism is reflected in the valuation of the country's leading brewer AmBev (see second chart) and has also been reflected in the price paid by Kirin for Schincariol. According to a presentation accompanying the announcement, Schincariol generated revenues of BRL2.85bn and EBITDA (earnings before interest, tax, depreciation and amortisation) of BRL509mn in 2010. The price paid by Kirin implies an enterprise value of BRL8.65bn and an enterprise value-to-EBITDA ratio of 15.7 times, which is well above the average for recent major takeovers in the brewing sector.
However, the price-to-sales ratio comes in at 2.74 which looks less expensive, with SABMiller currently trading with a ratio of 4.0, AmBev trading with 5.7 and Heineken 1.4. This contrast in the firm's valuation from a sales versus an earnings perspective is indicative of the fact that Schincariol's margins are well off those delivered by AmBev, which is illustrative of the challenges that Kirin will have in a sector where the current leader controls nearly 70% of the market.
Most multinational producers are only interested in markets where they can become the first or second largest player due to the fact that economies of scale play such a crucial role in determining profitability within the beer sector. There has been natural reluctance to take on Anheuser-Busch InBev in its own back yard. However, BMI has previously stated that one of the major brewers likely to eventually see Brazil as too much of an opportunity to ignore and Kirin has proven to be the firm with the gumption to take on the challenge.
AmBev Highly Valued
PE Ratio For Next Year Estimated Earnings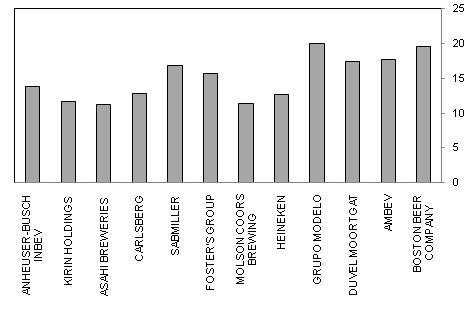 Source: Bloomberg, BMI
Kirin's willingness to take a chance on this tricky challenge can be traced to the weakness of the domestic Japanese market and the firm's low existing exposure to emerging markets. While the strengthening of its domestic businesses through ongoing product development, particularly in its non-core categories such as soft drinks, will remain important, Kirin is looking to the soft drink industry and its international alcohol division as the primary future growth drivers, as evidenced by recent expansions in China, Australia and Russia. Kirin is hoping to generate 30% of its revenue internationally within the next five to 10 years and it clearly has its eye on making an impact in many of the world's most important emerging markets.
One clear danger of this strategy is a lack of focus, particularly given the inherent economies of scale present within the beer and soft drinks industries. From an earnings perspective it would arguably be wiser to focus its efforts on building up a sizeable business in a single emerging market instead of the current scattergun approach. However, in all of these countries the firm has to contend with markets that are already well consolidated and it could therefore be suggested that the firm is making the best of its position (following a relatively slow recognition of the emerging market opportunity). This strategy means Kirin will have to quickly learn how to build market share from a relatively limited starting point. This will likely be through a focus on its core strength of building brands, as well as investment to invigorate growth of the premium sector, and it will be the success or otherwise of this process that will go a long way to dictate the firm's long-term earnings growth and valuation.
Related Reports:
South Korea Food and Drink Report Q3 2011;
Egypt Food and Drink Report Q3 2011;
United States Food and Drink Report Q3 2011;
Japan Food and Drink Report Q3 2011;
Qatar Food and Drink Report Q3 2011;
Russia Food and Drink Report Q3 2011;
Italy Food and Drink Report Q3 2011;
Ghana Food and Drink Report Q3 2011;
Netherlands Food and Drink Report Q3 2011;
Nigeria Food and Drink Report Q3 2011;
Singapore Food and Drink Report Q3 2011.
To order the report or ask for sample pages contact ps@marketpublishers.com
Contacts
MarketPublishers, Ltd.
Tanya Rezler
Tel: +44 208 144 6009
Fax: +44 207 900 3970