Vietnam - Monetary Tightening Leads to Softer Domestic Demand Conditions in H211
12 Aug 2011 • by Natalie Aster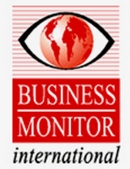 The State Bank of Vietnam's aggressive monetary tightening measures in H111 are expected to take the steam out of domestic demand over the coming quarters. While there are encouraging signs that inflationary pressures are beginning to cool, we remain concerned about the lagged impact of monetary tightening on consumer spending. However, given the positive dynamics of low unemployment, strong tourism growth and increasing remittance inflows, there is still considerable scope for optimism in the country's domestic demand picture in the near term. Over the longer term, the domestic demand picture for Vietnam looks brighter. A massive youthful population, sector immaturity and a plethora of macroeconomic driving factors make the Vietnamese consumer goods sector a high-growth prospect.
Rising Remittances, Low Unemployment
Vietnam's buoyant labour market conditions and rising remittance inflows are expected to give firm impetus to consumerism over the coming quarters. According to a recent report by CNN, Vietnam recorded one of the lowest unemployment rates of 2.6% in June among the Asia Pacific countries. On another positive note, remittance inflows are steadily increasing, which should translate into stronger purchasing power and a greater willingness to spend among local consumers. While actual data on remittances in Vietnam is not available, anecdotal evidence from local banks and financial institutions points to growing momentum in remittance inflows. Local bank Sacombank, for instance, noted a 30% year-on-year (y-o-y) increase in overseas remittances for H111, while Western Union, a subsidiary of Asia Commercial Bank reported an increase of 8% y-o-y in remittance revenue over the same period.
Strong Tourism Growth Boosts Demand Growth
On The Up
Vietnam Tourist Arrival Growth, % chg y-o-y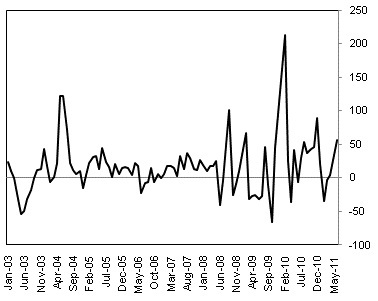 Source: General Statistics Office, Bloomberg
A strong showing in the Vietnamese tourism sector is also expected to have positive spillover effects for the consumer-facing sectors. Vietnamese tourist arrivals increased by 55.9% y-o-y in June. While base effects (due to a y-o-y decline in tourist arrivals in the previous year) has a part to play behind this impressive growth figure, we observe that tourist arrival growth has been particularly strong over the past few months, which should provide a strong fillip for consumer goods sales, particularly for more expensive premium products (see chart).
Aggressive Monetary Tightening Dampens Domestic Demand
Despite these positives, the impact of aggressive rate hikes since the beginning of the year provides some reason for caution in Vietnam's near-term domestic demand picture, and we believe consumer spending growth will continue to moderate over the coming quarters. Prompted by the sustained intensity of inflationary pressures and overheating concerns, the State Bank of Vietnam engaged in an aggressive round of monetary tightening in the earlier months of 2011. Between February and April, the central bank hiked its benchmark policy rate by 800 basis points.
Moderating Inflationary Pressures
Vietnam: LHS: CPI and Food CPI (% chg m-o-m) and RHS: CPI and Food CPI (% chg y-o-y)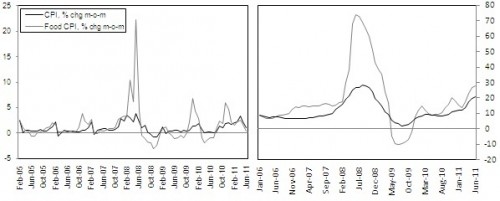 Source: Bloomberg, General Statistics Office
While our Country Risk team does not envisage further rate hikes in the Vietnamese economy in 2011, we believe the lagged impact of monetary tightening in the earlier months of 2011 would prevent domestic demand from reaching its full potential this year. As the accompanying chart shows, we are beginning to see signs of a moderation in consumer price inflation in month-on-month terms. This, coupled with the central bank's decision to keep rates on hold at 14% since May, underpins our view that we have come to an end of a monetary tightening cycle for Vietnam.
Retail Sales Taking A Hit
Vietnam Retail Sales Growth, % chg y-o-y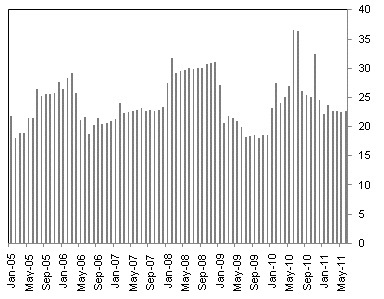 Source: General Statistics Office, Bloomberg
The impact of monetary tightening on consumer spending is borne out by recent retail sales figures. Retail sales have moderated since February when the central bank initiated its monetary tightening cycle, recording growth of 22.6% in June. While this is an impressive growth figure, which underlines the robustness of the domestic demand conditions, we observe that retail sales growth has trended along a distinct deceleratory path in recent months (see chart), bearing out the impact of monetary tightening on consumer spending.
Cannot Deny Vietnam's Long-Term Potential
If a tighter credit environment poses a threat to near-term domestic demand conditions, the long-term potential of the consumer-facing sectors in Vietnam is undeniable. Rapid economic growth in Vietnam over the coming years should translate into higher income, in turn benefiting consumerism. GDP per capita in Vietnam is forecast to more than triple to reach US$4,444 by 2020.
Most exciting though is the country's favourable demographic profile; 51.9% of the population is estimated to be under 30 years old, implying potentially dynamic opportunities for consumer goods players targeting the mass-market segment in particular as this demographic group matures over time.
Low Consumption But Massive Room For Growth
Selected Countries Per Capita Food Consumption (2011)


Source: BMI forecast
The immaturity of food, drink and retail sectors in Vietnam ensures that the country will retain its appeal as one of the most exciting markets in the region for some time to come. Low existing per capita food and drink consumption levels in Vietnam imply that considerable room for growth remains (see chart). Moreover, organised grocery retail makes up only 15% of overall grocery retail sales, compared with levels of between 40-70% elsewhere in South East Asia. Given just how far organised retail has to run before its proportional contribution is comparable with developed economies and countries such as China, Thailand and Malaysia, there are going to be huge opportunities for mass grocery retail growth in Vietnam.
Related Reports:
To order the report or ask for sample pages contact ps@marketpublishers.com

Contacts
MarketPublishers, Ltd.
Tanya Rezler
Tel: +44 208 144 6009
Fax: +44 207 900 3970