United States - Teva Keeps On Buying
11 May 2011 • by Natalie Aster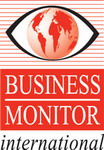 BMI View: Teva Pharmaceutical Industries continues to favour inorganic growth from mergers and acquisitions (M&A) over in-house research and development (R&D). However, large debts from acquisitions, below consensus sales results, below-expectation clinical results for laquinimod and the possibility that the company will face generic competition for its biggest blockbuster drug - Copaxone (glatiramer acetate) - before its official patent expiration in 2014, has worried investors.
Despite these problems, the Israeli company's portfolio of lower-priced generics makes it better placed than other drugmakers to profit from an increase in generic drug market share as austerity measures are introduced and the patent cliff allows for increased generic competition.
Teva has announced a US$6.8bn takeover of Cephalon, a US-based innovative drugmaker with net sales of US$2.81bn in 2010. The purchase continues the Israeli company's rapid expansion through M&A that it hopes will facilitate a doubling in net sales by 2015.
Teva's acquisitions over the past two decades have yielded strong results. Historically, the Israeli company has focused on branded and value-added generic drugs, as well as innovative drug development to a lesser degree. The company has avoided commodity generics for frontier markets, instead concentrating on higher-margin products in developed markets, which undercut post-patent branded drug prices.
Teva's purchase of Cephalon will increase its presence in the patented medicines market. This is in line with BMI's previous assessments of Teva, in which we recommended diversification into patented medicines.[1] BMI believes the increased commoditisation of generic drugs in the long term will erode profit margins, whereas patented drugs will continue to offer shareholder value.
Outbidding Valeant
Teva's acquisition of Cephalon was an intervention to ward off a hostile takeover by rival Canadian drugmaker Valeant Pharmaceuticals. Valeant had attempted to buy the US company at a price of US$73 per share, but was outbid by Teva, which offered US$81.50 per share. Valeant claims to be happy with the resulting merger as it holds 1mn shares in Cephalon, so have benefited financially despite the failed bid.
Valeant said it believed that Cephalon's drug pipeline was weak and was planning to make cuts in that department. However, Teva has placed more faith in the company's pipeline, saying that its inclusion is part of the Israeli drugmaker's strategy to become less reliant on generic drugs. It will worry shareholders that the two companies' assessments of Cephalon's pipeline differ so drastically, although Valeant's rhetoric on the subject may have been designed to obtain a lower share price during the bidding process. The Israeli company has said it believes that there are up to US$500mn in synergies that could cut costs in the merger, but the two companies are keen to emphasise that such cuts would have been more severe under Valeant's stewardship.
Cephalon's 2010 report highlighted promising developments in the therapeutic areas of Lupus, sciatica, asthma and mesenchymal precursor cell (MPC) therapies. The inclusion of a stem cell therapy in a pharmaceutical company's yearly financial highlights is unusual, but could become part of a wider trend if the relatively infant technology begins to show therapeutic potential.
Teva's Share Price Dramatically Underperforming
Considering Teva's meteoric rise to become the biggest generic drugmaker in the world, its share price over the past year has dramatically underperformed over the last year. This has lead to analysts downgrading their rating of the company in April 2011, which caused its share price to slump to a 26-month low.
The purchase of Cephalon has seen a small recovery, but the share price remains depressed. Apart from concerns over growth in sales, Teva's pipeline and Copaxone's patent, the company's share price has also been hurt by regional instability and the current developed-markets-over-emerging-markets investor sentiment. Over the past year, Teva has underperformed (-23.1%) relative to the S&P 500 Index (+13.2%) and the S&P 500 Heath Care Index (+13.3%).
A Bad Year
The Relative Performance Of Teva, The S&P 500 Index And The S&P Healthcare Index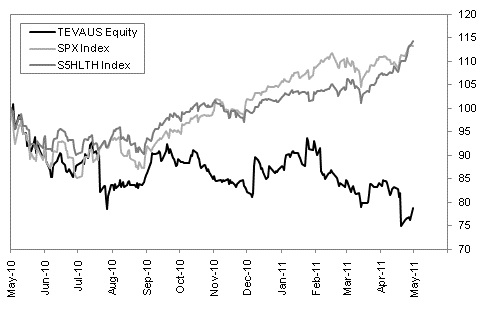 Source: Bloomberg, NYSE
Copaxone Trial Set for September
Teva has announced that the New York District Court has set a trial date of September 7 2011 for the company's ongoing infringement litigation against US companies Momenta and Mylan regarding their purported generic versions of Copaxone.
According to Robert Gould, a partner at Duane Morris, the companies filing to make generic Copaxone are fighting an "uphill battle" as they argue over the indefiniteness of aspects of Teva's patent in an effort to gain marketing approval before the expiry of the drug's patent in 2014.
[1] Business Monitor Online - Industry Trend Analysis - Teva Continues To Favour M&A Over R&D - 08 Nov 2010
Teva's Aquisitions
Year Of

Aquisition

Country

Company Aquired

Price

(US$mn)

Net Annual Sales

Pre Purchase

(US$mn)

1996

US

Biocraft

290

-

1998

Holland

Pharmachemie

87

130

1999

US

Copley Pharmaceutical Inc

220

133.5

2000

Canada

Novopharm (Viventia )

Biotech Inc

280

297.5

2004

US

SICOR

3400

455

2006

US

IVAX

7400

547.1

2008

US

Barr Pharmaceuticals

+ Pliva

7500

1300 (2005)

2008

Spain

Bently

360

114

2008

US

CoGenesys

412

-

2010

Germany

Ratiopharm

4950

2112

2010

Monaco

Theramex

265

122.4

2011

US

Cephalon

6800

2800
BMI's pharmaceuticals reports feature independent 5-year forecasts for drug and health expenditure, imports and exports, focusing on the growth outlook for the prescription, OTC, patented drugs and generics market segments. The regulatory and reimbursements regime, intellectual property rights issues, epidemology, the long-term disease burden and domestic R&D are analysed, as well as the biotech and medical devices sectors. The reports also feature profiles of leading pharmaceuticals companies, covering SWOT analysis, product portfolio, latest financials and key developments.
Related Reports:
To order the report or ask for sample pages contact ps@marketpublishers.com
CONTACTS
The Market Publishers, Ltd.
Mrs. Alla Martin
Tel: +44 208 144 6009
Fax: +44 207 900 3970
ps@marketpublishers.com
www.marketpublishers.com